STOP PRESS !!! TVR CHIMAERA GRIFFITH V8S
EMERALD K6 ECU FITTED AND MAPPED DRIVE IN DRIVE OUT CONVERSION NOW STARTS FROM ONLY £1895.00
Whirlwind 6C (Carbon)
The Whirlwind Carbon Fibre Short Induction Airbox Final Prototype Version (phew!) has been released and we are pleased to announce that orders for full production finish versions are now being taken.
The airbox is the finished full carbon version of the popular stainless airbox top already on sale and as seen below. The carbon version brings all the performance benefits of the short induction concept as proved on the dyno and on the race circuit in the T350R race car we have prepared and run in the recent past TVR Challenge series and puts them into a lightweight rigid and beautiful carbon fibre enclosure.
The airbox is a bespoke high performance item made from prepreg Carbon and clear lacquered for a high shine finish and incorporates high quality stainless latches and air pipe fittings. It is available solely through us and the short induction design has been developed using data and information gradually refined over many years. It is not a direct replacement for your existing airbox - the extra airflow delivered by the short induction lengths means a remapping process is essential for increased performance and safety which means all airboxes are supplied, fitted and your engine ECU remapped here at our workshops.
Airboxes can take 6-8 weeks to manufacture from the date of ordering, and a 15% deposit will be required.
Whirlwind 6C Airbox : supplied, fitted and ECU remapped for £1795.00
**One airbox only (the pre production version) is available on a first come first served basis at £1600.00 please call**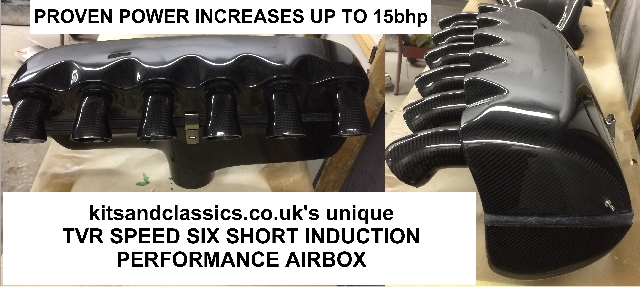 The Whirlwind6S (Stainless) Speed Six Performance Airbox Top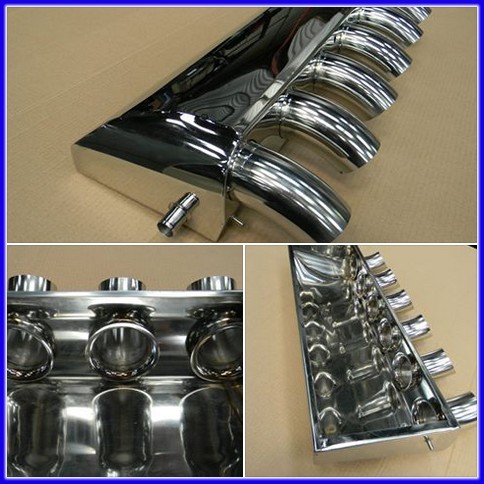 The Whirlwind6S Stainless Airbox Top is made to the same specification as the Carbon version and that used on the T350R race car, a car which in the last year it raced set fastest lap and pole position in class in every event it entered. In every race that it finished it finished in class first place. We know this works!
Workshop fit only including bespoke remap £1450.00
To our knowledge the Whirlwind6 Short Induction Concept is the only airbox design to deliver substantial gains in power, please see the rolling road graph which shows the gains on a standard 3.6 litre Tamora. A clear 10-13bhp extra at the top end and no losses lower down, 15bhp has been seen on occasion.
And people said the Sp6 airbox couldn't be improved!! We beg to differ ..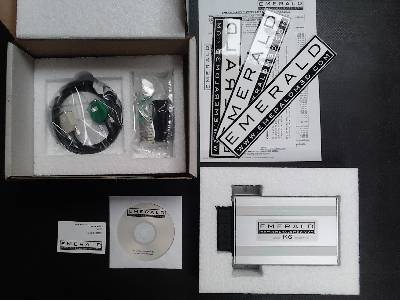 Aftermarket engine management systems are now a common addition to many performance cars .. we believe that the Emerald K6 ECU offers the best blend of value for money, performance features and reliability and is our ECU of choice for any standalone management upgrades we carry out.
A simple drive in drive out conversion onto a Speed Six engined car can be had for as little as £1200.00 by using your existing MBE ecu as part exchange. Extras ranging from self mapping capability through to traction control are all well within the unit's ability.
Full ECU install and mapping now starts at just £1200.00 !!
We offer a range of tuning options for the Speed6 engined cars and we have been specifically concentrating on the 3.6 version of the engine as featured in the T350 race car that we prepare and run.
As you can see from the graph on the left we are now at 110bhp/litre with more to come.
Central to the increase in power is our fabulous Whirlwind6 Performance Airbox Top which delivers at least and extra 10-12bhp at the top end of the rev range with no losses lower down.
The race car also benfits from an in-house ported cylinder head, a full ECU remap (the race car uses an Emerald ECU but could easily have been on the standard MBE unit), a new straight path exhaust system and specially developed camshaft timings.
Cam Timing Reset
Over the years we have developed our own cam timing set-ups for the Speed 6 engine .. the range of settings available is from the standard TVR factory timing at one end through to settings which really let the engine sing at the top end. Not many people realise that the difference between cams timed incorrectly and subsequently corrected can be as much as 30bhp!
Because of the complete lack of crank pulley timing numbers it's an often overlooked area but is one which can greatly enhance performance. Some garages may not even know how to correctly identify the cam timing your car is currently running, or how changing the settings can influence performance through the rev range.
We offer a cam timing update package which first of all checks where your current camshaft timings are (sometimes they are not even the same bank to bank) then we suggest alternative timings based on the use you put the car to.
Full cam timing checks and resetting is £400.00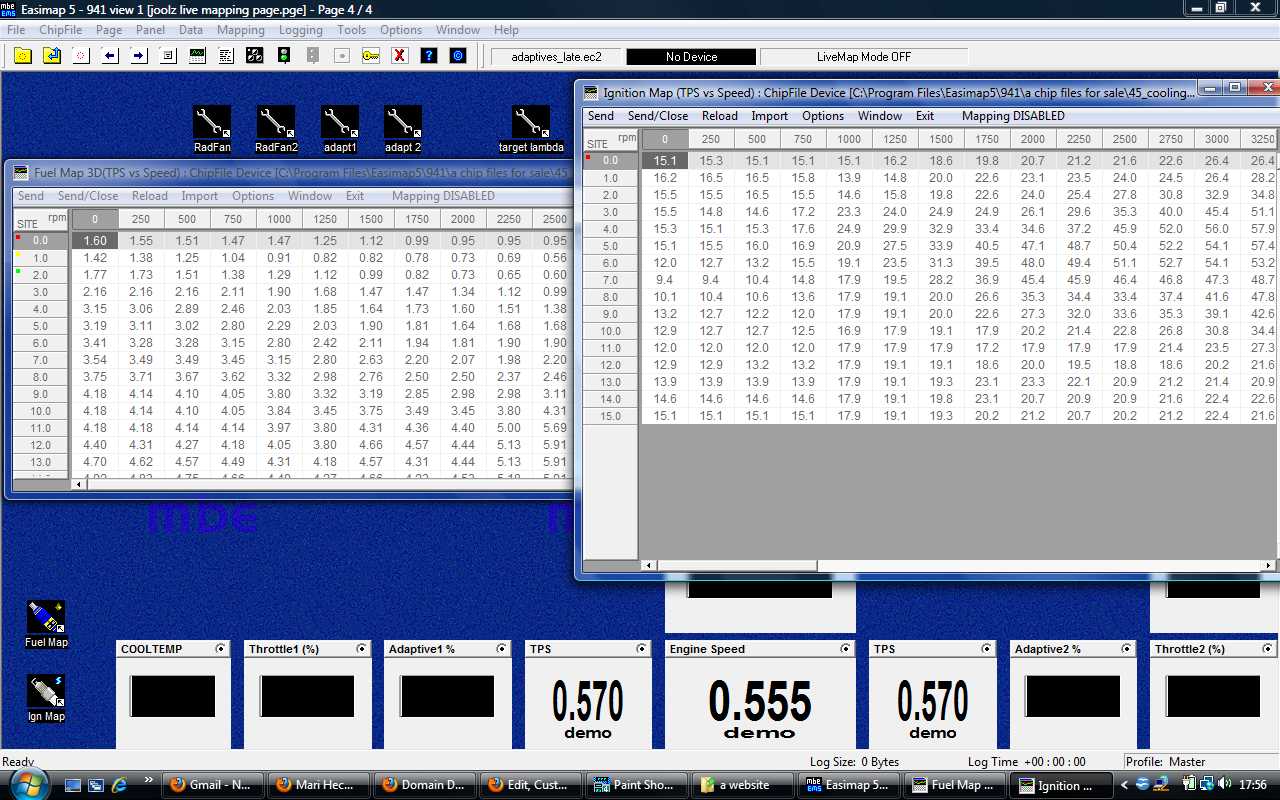 We offer remapping services for the MBE ECU as fitted to the AJP8 and Speed6 engined cars.
Remapping your ECU allows us to extract the unlocked performance in your engine. Cars are naturally mapped conservatively by manufacturers and in some cases such as the 4.5 AJP8 the mapping is so poor that a bespoke remap on our rolling road can unleash up to 60bhp over the standard car.
AJP4.2 and Speed6 cars don't gain such dramatic numbers but improvements of 20bhp are still commonplace, coupled with better driving manners and improved fuel economy. Once you start to modify your car though the benefits of remapping for engine safety and performance become very important.
You can book our rolling road for an engine power health check through to a full bespoke remap.
Rolling Road Power Run £40.00
All TVR MBE ECU bespoke remapping £695.00 (2 days work)
All Emerald ECU remaps £300.00 or £400.00 for supercharged/turbocharged cars (one map only, additional maps at 100.00 each)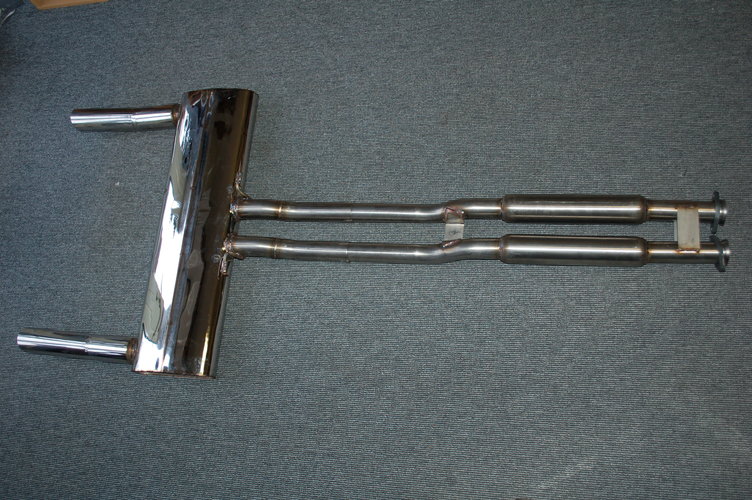 Large bore exhaust for TVR Cerbera
Pipework diameter 2.25inch, smooth bends and special silencer internals make this a perfect replacement for the original equipment exhaust and those needing a high flow system with low noise levels. Sound replicates that of the original exhaust but with higher flow capacity. Developed by ACT and tested by us, we know it works!
Complete system incl clamps etc £1050.00
Back box only £735.00 (free delivery on these items)