STOP PRESS !!! TVR CHIMAERA GRIFFITH V8S
EMERALD K6 ECU FITTED AND MAPPED DRIVE IN DRIVE OUT CONVERSION NOW STARTS FROM ONLY £1895.00
December
The Emerald ECUs for TVR are flying out at the moment .. one mail order full kit delivered and one full car install just mapped up on the dyno, another 2 planned for the new year .. so a perfect opportunity to give a litle bit more advice on ECU installs.
No two Tvrs are the same - some have power steering, some have air conditioning - sometimes owners move things around in the engine bay - so we take the view that each install should be done using as little off the shelf componentry as possible .. as such we make our own crank sensor brackets and coil pack brackets, we also hand assemble our own looms on a per-car basis including making our own HT leads.
The coil packs we use on all our Emerald Ecu installations are the peugeot / citroen items as used by TVR on the Cerbera, and this in-house fabricated Tig welded bracket puts them neatly alongside the alternator where the distributor once sat ..
So our tip for today is keep your brackets simple but strong.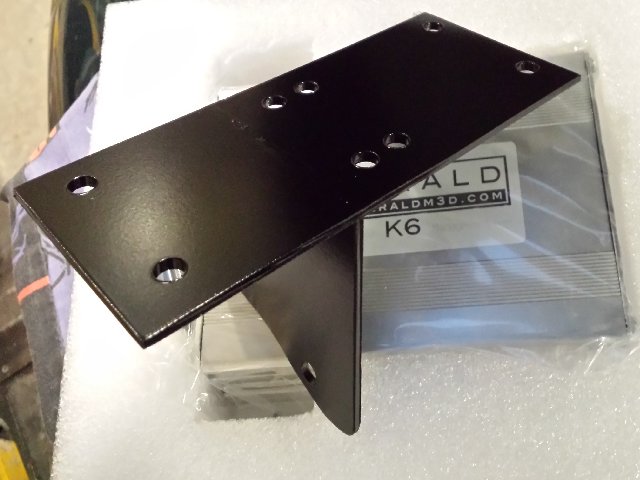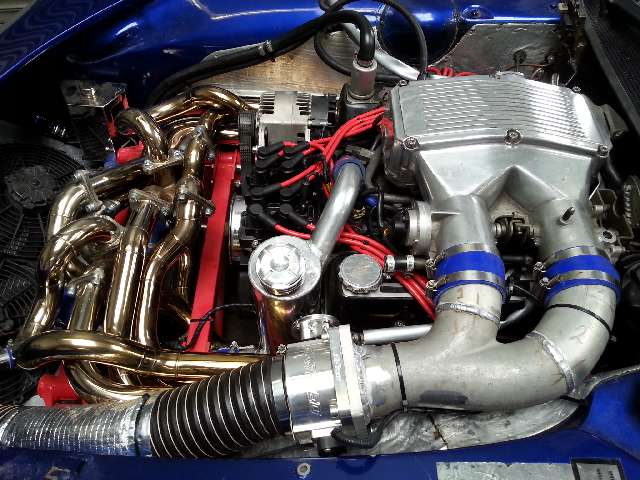 December
The last of the TVR Cerbera 4.2 cars came with the larger displacement 4.5 bottom end to create what many people regard as the best version of the car. The increased capacity gives the punch of the 4.5 but the better design of inlet on the 4.2 means improved driving manners at the expense of outright top end power. In the real world the better driving manners of the 4.2 intake system make it a much easier day to day proposition and the extra low and mid range punch of the 4.5 engine coupled with the greater throttle-accuracy of that 4.2 intake makes it devastating across country.
We typically see 20lb.ft and 20bhp more from the 4.5 ltr version .. a factory standard 4.2 would usually be around 310lb.ft and 340bhp on our dyno.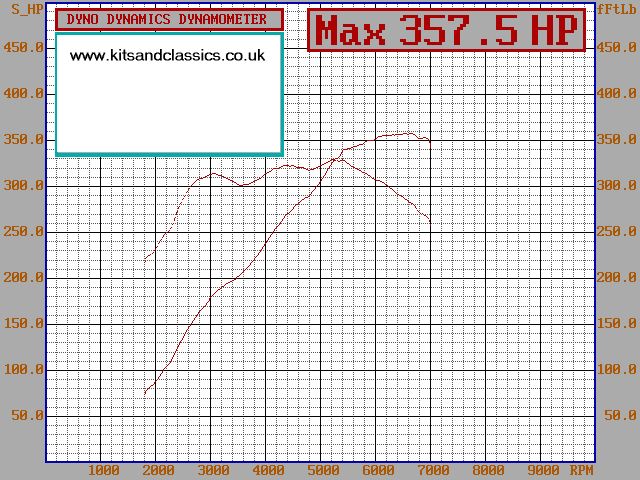 December
The winter discount on remapping has worked well and we are pleased to say that both December and January are now fully booked, so we are now taking in work for February onwards. A rolling 6-8 week lead time on larger jobs is something we typically see during the summer months so it's great for us that many people have taken advantage of the winter offer and filled in what is traditionally a slower time of year in the sports car tuning world.
With three Emerald ECU installs and one Emerald parts supply , four Lucas 14CUX remaps, a Cerbera Protech suspension supply and fit plus MBE remap and not forgetting a turbocharged classic Mini to map it's going to be a busy xmas and new year!
November
The owner of a local classic car garage has just purchased this Chimaera for his own use and wanted it checked over, we were pleased to report that he's bought wisely, however it may end up costing me money as he has a low mileage MG Midget in that I'm tempted by ... well it is Xmas soon so it might be an early present ..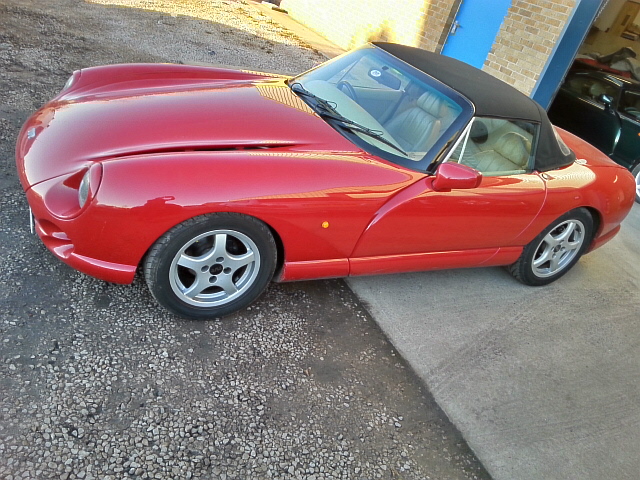 November
As cars get older they might start to lose power .. so when A Triumph Stag was recently on the rollers we didn't know what to expect from its 90,000 mile engine.
It was a very pleasant surprise then to see that the engine, once rated at 146hp and 170lb.ft, made 143hp and 170lb.ft !!
The car was fitted with a Megasquirt ECU just running the ignition system so giving in effect a mapable distributor. Power rose to nigh on 150hp and torque to 180lb.ft with impressive gains right through the rev range on full throttle, with corresponding gains and improvement in throttle response on part throttle also.
The plan now is to get a pair of carb adaptors machined up to convert the Stromberg carburettors to behave as a pair of single point injection throttle bodies. This will also allow us to correct the very weak mixture at large throttles and low rpms which should boost the bottom end even further. By contrast the high rpm mix was very good so no real gains are expected there, but you never know!
Here is the comparison graph of the standard engine power versus the ignition remapped version.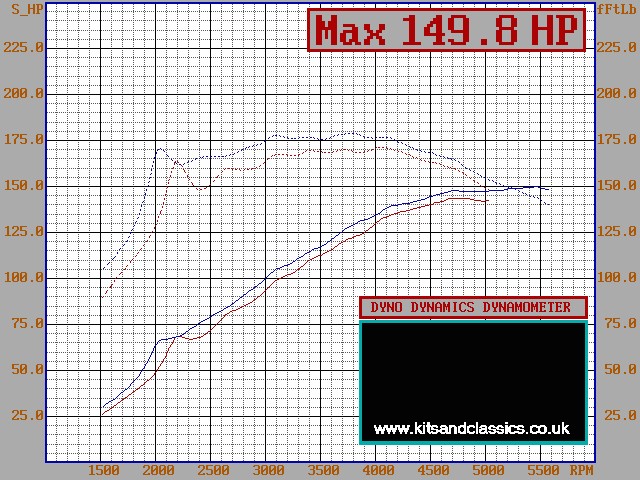 October
One of the problems we face often here with cars running aftermarket ECUs is the quality of the installation .. and wiring in particular.
Don't cut corners here, it will usually cause you problems later .. Looms should be neat and tidy, electrically and mechanically robust. Use proper terminals and connectors with correctly sized heat shrinking or other suitable conduits to make a professional looking job.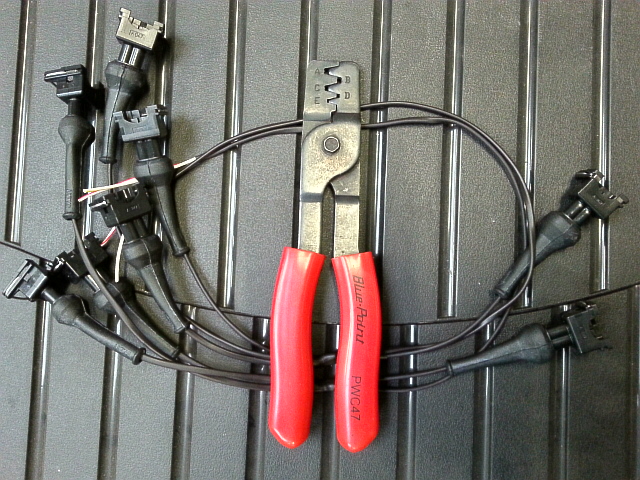 October
Ready to go off to it's new home atop a 5 litre Rover V8 in a TVR race car is this in-house ported inlet manifold, thermal insulator and 45mm blended trumpet base. Fuelling is taken care of by a set of injectors with sufficient flow for over 400hp.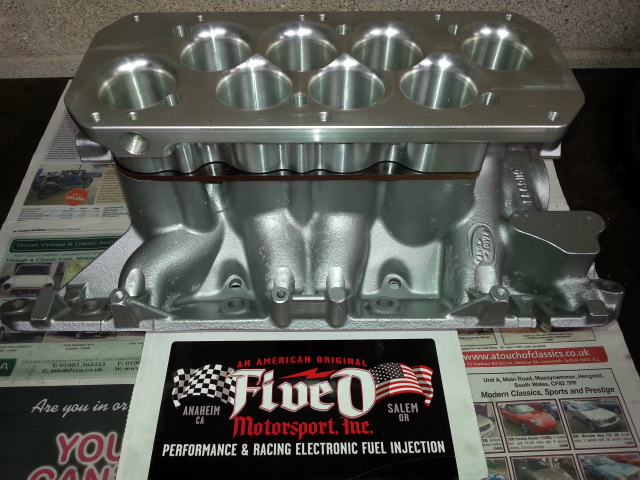 October
When fitting a new ECU system it's important to get the basics right and one of the areas that often causes people problems is the crank sensor mounting. This should be rigid to keep the sensor firmly in position, but some degree of adjustability is often desirable especially if the sensor is mounted in an awkward place and the dimensions of the mounting plate may be difficult to measure up if the engine is still in the car. Here is an example of how not to do it ..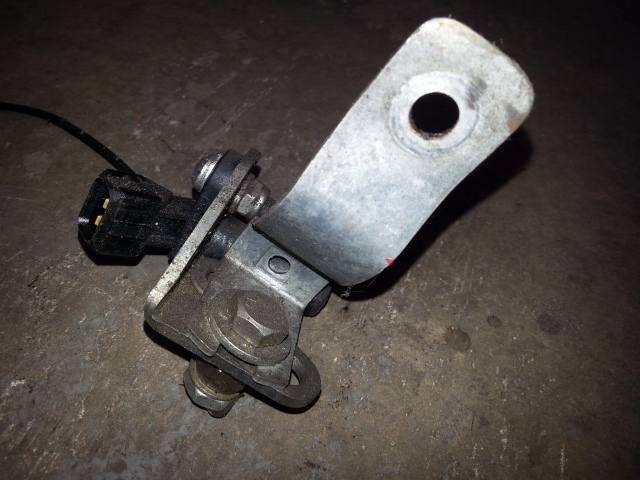 October
Yet another car visits for an Emerald K6 ECU install .. We always tailor these to the customer requirements so this car is getting 3map switching, wideband lambda sensor, bespoke loom and full mapping carried out in-house.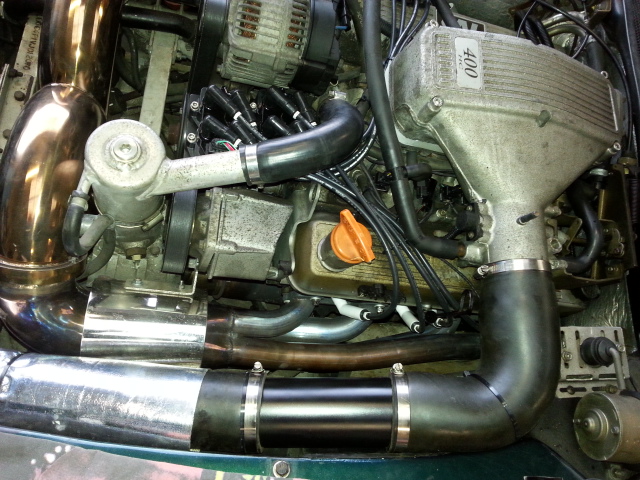 September
A nice Tamora has just been in for one of our performance airbox tops and a remap. The airbox tops so far have all been either mail order supplies or fitted to massively modified engines and this recent car is amazingly the first chance for us to measure the true performance improvement on an otherwise perfectly standard car. We think the results are pretty impressive and indeed we don't know of any other airbox which delivers such an improvement over the already very good standard box.
Some minor fuelling changes were made to account for the improved airflow, but ignition changes made no difference to the power so this really is a purely airbox design driven improvement.. !
September
A car recently has presented a bit of a head scratching time .. the Rover V8 engine had started sounding flat and a check of the timing revealed that it was in fact around 20 degrees retarded from where it should had been. The car in question has an aftermarket ECU fitted and the timing reference is from a trigger wheel mounted on the crank pulley. Something didnt make sense. After a while I realised that the crank pulley was in fact not registered to the crank at all .. the main pulley nut was tight, but the pulley could be moved by hand relative to the crank - so in fact the main timing reference was also moving relative to top dead centre.
The timing cover was removed and it was found that during an earlier update of the oil pump and timing cover from pre serpentine to serpentine assemblies at another garage the crank nose hadn't been modified to take the longer serpentine woodruff key. This key passes through the cam chain drive sprocket, the new timing cover oil pump and then into the crank pulley, except the shorter earlier woodruff key was too short to reach the pulley. To give some kind of purchase to the pulley it had been loctited to the crank ..
Further investigation revealed that the camshaft retaining bolt was loose so this engine really was a ticking timebomb caught just in time.
September
A nice Chimaera 4 ltr came to visit for a bit of a health check and run on the rolling road. The engne had nearly 100k miles on it but experience tells us that these smaller Rover V8 engines in theTVRs tend to last rather well. Somewhere around 220bhp flywheel from the engine was our prediction in its basically standard spec, the only changes were that it had been decatted , and a smoothbore induction system had been fitted.
When the engine made 219bhp there were smiles all round.
August
A Blue-Griffith frenzy seems to have happened lately ..the car in the background will be having a 3 map switch wired to it's Emerald K6 ecu amongst other work, whilst the car in the foreground has been in for a Lucas ECU remap. Its engine was recently built by Graham Nash at NCK and gave a very good 299bhp.
August
For many people the Lotus Elise is something of a dream car .. light weight giving excellent acceleration and braking coupled to that famous Lotus chassis wins it many fans. But for some the lack of outright power means there's a whole host of engine tuning upgrade routes available.
One such owner has had his engine fettled by someone who more usually does motorbike engines, but he's done a pretty good job of this K series too! The result after remapping the Emerald K6 ECU was just shy of 180bhp.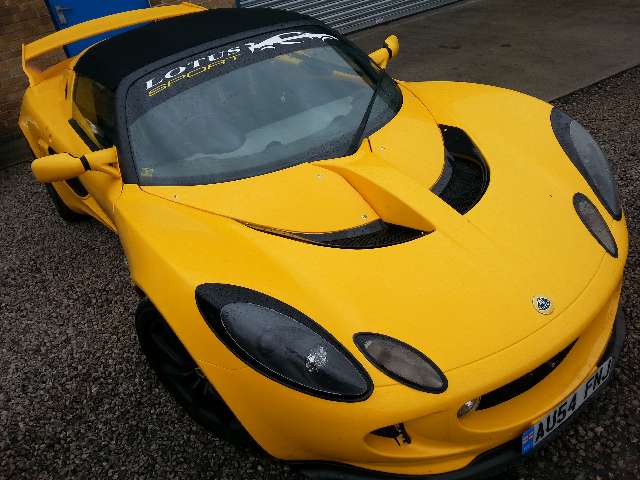 August
We've seen a few turbo and supercharger conversions onto the faithful Rover V8 engine over the years and they can be made to work reasonably effectively on the standard Lucas 14CUX if running low boost pressures, but as soon as you want to push the power levels upwards you really need to consider going for an engine management package that allows you far greater control not only of the fuelling but also the ignition, and the associated correction factors.
One such car, a supercharged Chimaera, has just had an Emerald K6 ECU conversion in place of the original Lucas ECU, all fitted and mapped here at Kits and Classics. The car currently has a standard 4 litre engine, albeit fully decatted, but was running very weak on the dyno during its initial power runs. The owner plans a change of capacity and consequently the upgrade plan included fuel pressure and injector changes to accomodate any future power increases.
At the moment though we think the owner will certainly notice the extra 70bhp liberated from the current engine!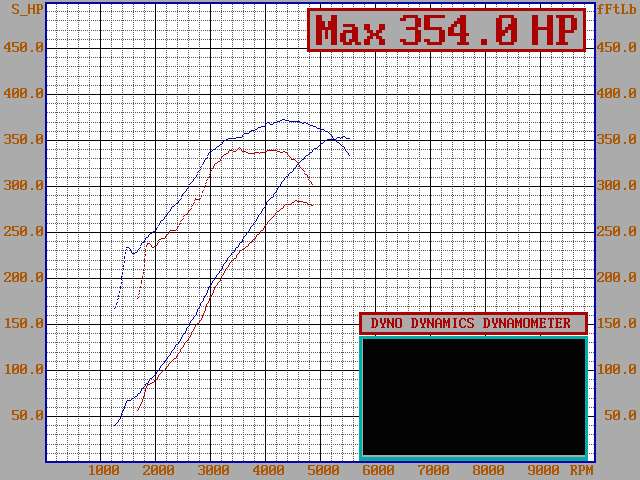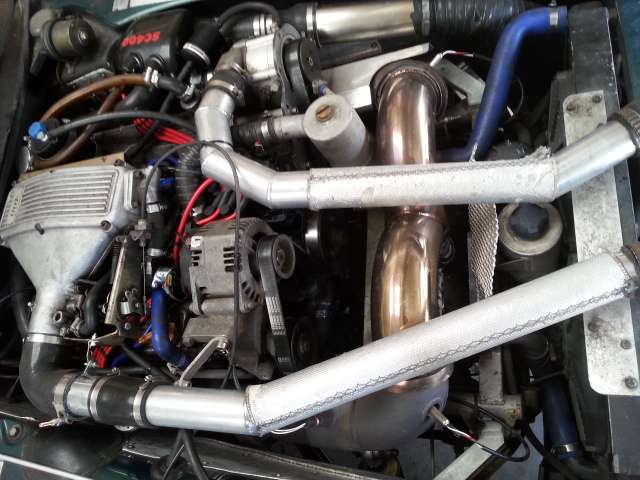 July
After what seems to have been a constant stream of LUCAS 14CUX remapping something a bit different turned up at the workshops for remapping today.
This 4.2 E Type Jaguar has been converted to fuel injection by its owner using a combination of later injection Jaguar, Nissan and Subaru parts .. and it all works rather well! The ECU was a Megasquirt MS2 built by MS guru Phil Ringwood from ExtraEFI.
Power outputs were always exagerrated back in the day, so 222bhp and modern day driving manners were a great reward for the hard work put into the conversion by the owner.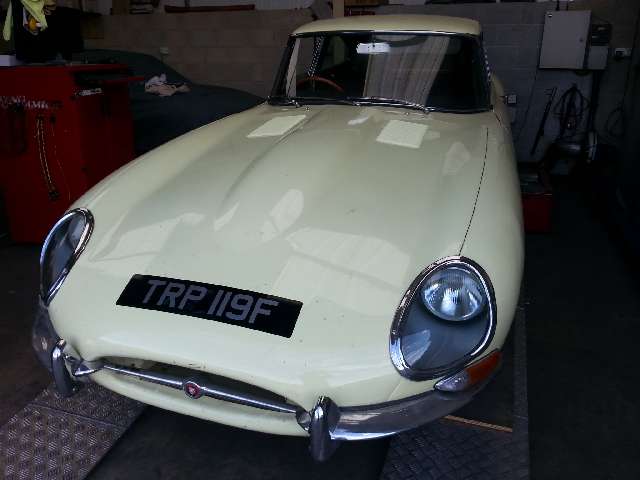 June
Two more Cerberas are washed and ready to leave work with their respective owners.
The car in the forground was a relatively straightforward short induction and remap which resulted in a healthy 403bhp.
The car in the background was anything but simple though. Initial rolling road runs showed only 240bhp and a massive fuelling inbalance between left and right banks.
The fuelling issue was injector related, cured by fitting a set of flow matched Bosch injectors.
The power loss was down to one catalyst having completey destroyed itself and partially blocked the catalyst outlet, and the injector flow issue of course.
Whilst the car was in though the groaning starter motor also finally gave up the ghost, and despite having been recently serviced at a reputable service centre the fuel pipe from the pressure regulator started to drip fuel over the ignition coils! It still amazes me that fuel pipes are not being checked properly at service time, please make it a priority for your car's next service before something disastrous happens.
The upshot of doing all the work though resulted in a car leaving with a full 100bhp more than it came in with. A great result all round.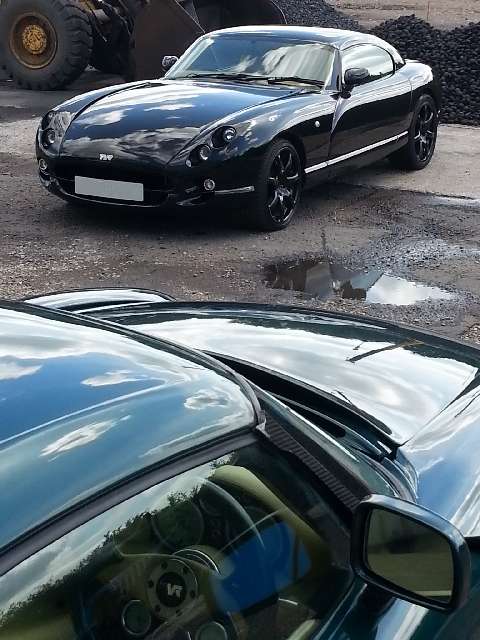 June
Wiring. This is something that often gets done badly and here is a case in point. A car was recently in for some work which involved remapping the engine management ECU. However during the remapping process it was noted that the voltage at the ECU was varying wildly anywhere from 14 volts down to as low as 11 volts.
Some investigation turned up the wiring in the picture below. This was the main ignition switched positive feed to the ECU but was also being used to power the pair of ignition coils directly.
The simple solution was to eliminate this poor connection and power sapping overload by using the original switched feed to energise relays instead. Why it was ever wired this way to begin with is baffling though ..
Here is the connection exactly as it was unwrapped from the loom.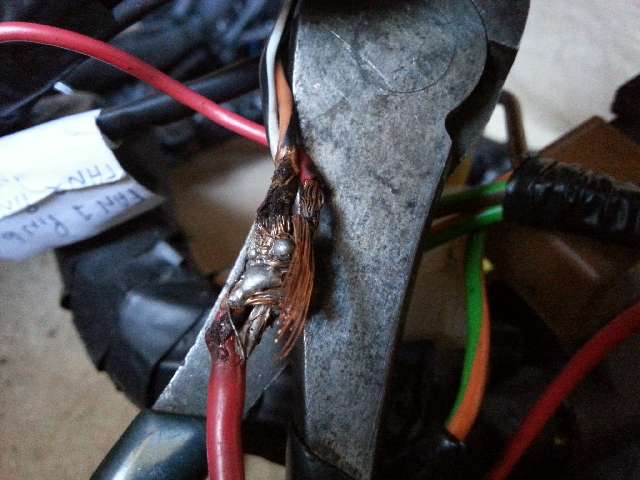 June
A bit of a project nears completion in the workshop. This griffith 500 sports one of the rare Rover Vitesse Twin Inlet Plenums, but one of the issues with these is throttle spindle wear. This is not such a problem on the original airflow meter engine management systems but this car wears an Emerald K6 ECU mapped on Throttle Angle v Engine Revs. For this to work properly the ECU must accurately know the position of the throttle butterlfies, and if the spindle wear is excessive this does not work well.
This car had already had some work done on the spindles but it hadn't worked sufficiently well so the decision was taken to move to a large single throttle upstream and remove the butterflies from the Twin Plenum completely.
Other work done was:
move the coil packs from their original position next to the plenum and re-locate them centrally where the distributor used to be situated, make a new set of bespoke length HT leads and extend the low tension wires to the coil and re-route them down the opposite side of the plenum
run an enlarged air intake pipe through the inner wing to a front mounted air filter
re-locate the air temperature sender to the nose of the car near the air filter
cut and re-weld the coolant tower outlet pipe to move it away from the new 8-2-1 exhaust manifold system
make a bespoke throttle cable with heat resistant outer covering
re-route the engine breather pipe
and finally a bespoke remap on the rolling road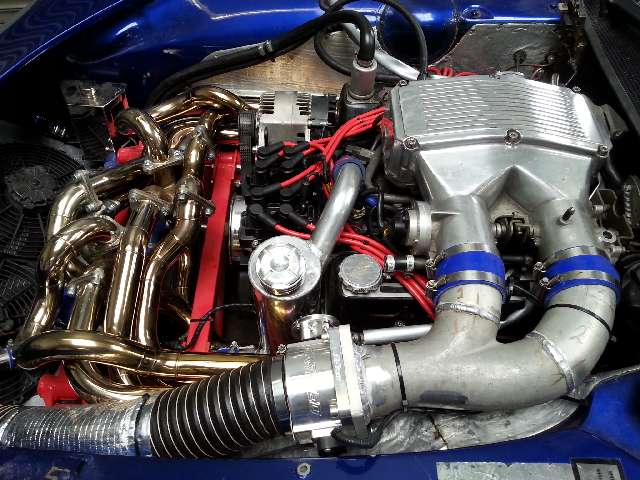 June
The lead up to race season is always a busy time for us with regular and new customers coming with engine and suspension woes for us to sort out. Then through the season there are usually a few little niggles to be dealt with too. One such car came in the other day with a misfire problem. This sort of issue is best investigated on the rolling road where you can replicate the exact conditions that create the misfire over and over again in complete safety.
The issue in this case turned out to be the ignition coil. A new Mazda MX5 coil wasn't available easily so to prove the original coil was faulty a common alternative 4 cylinder coil was used instead with appropriate matching HT leads and an adaptor lead to link the coil to the car wiring harness. This kind of lateral thinking is what can make the difference at a race circuit where the exact part sometimes cannot be found, but with a bit of rummaging around in the parts box a working solution can get a car back out again.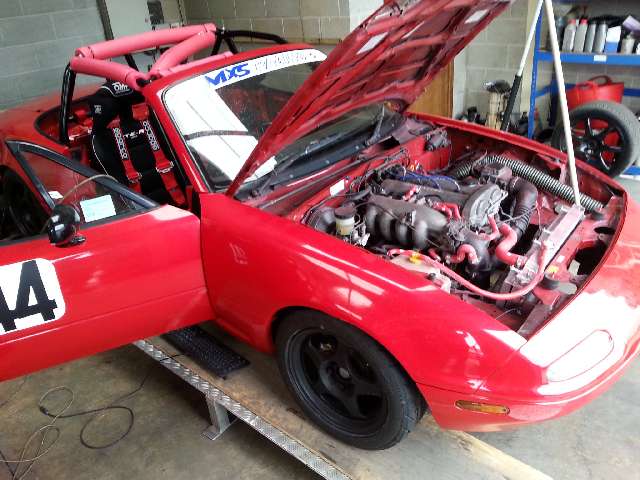 June
Here's a picture which I think represents the wide variety of vehicles we see here in the workshop .. a lovely little Midget 1500 and a gorgeous RV8 powered AK Sportscars Cobra replica. Both cars are a credit to their owners.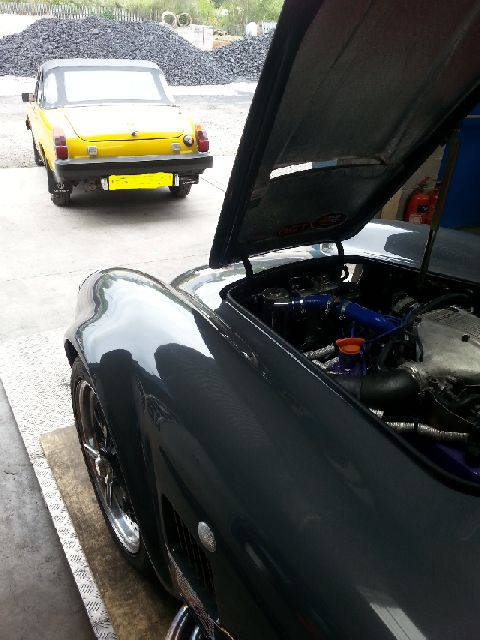 May
As cars age so component performance can start to deteriorate. This can be especially true of the fuel injectors fitted to many cars.
We have recently been investigating alternative injectors for the Cerbera 4.5, a car which uses a high flow disc type injector as standard. These injectors get a lot of bad press but we have never really experienced many problems with them, however as cars get older it can often be beneficial to change them for a new matched set or better still another design altogether.
We have just completed testing of a set of Bosch injectors with great results. If you suspect your injectors may not be performing at their best it might be worth changing them for a better design of injector rather than have the existing set cleaned.
Please email us for the latest prices for supply, fitting and bespoke remapping.
May
A familiar sight on the dyno at Kits and Classics is a racing Lotus Elise .. now sporting a new 2litre bottom end instead of the 1.8 litre and a head from CNC Heads who's race series it races in. The power is very very good ...
May
The standard inlet manifold for the Rover V8 is a 38mm bore size with long trumpets. For high power cars this can usefully be increased to 45mm and coupled to our 45mm blended trumpet base. Here is a 45mm ported intake we have recently done for a 430 Big Valve Griffith. Coupled with a larger throttle plate and 20AM air flow meter this remapped engine then gave and extra 20bhp .. up from 265 to 285bhp and between 290-305lb.ft through the heart of the mid range, a very useful increase.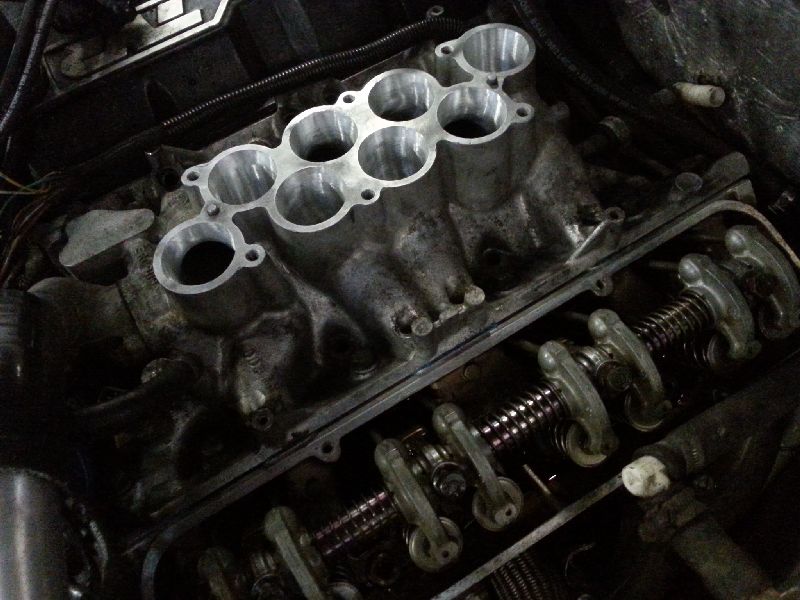 May
In the pursuit of more performance an exhaust change is one of the first changes people make, but few are as intricate as this set-up we recently fitted to a 5 litre Griffith. A work of art, an epic exhaust note, and once some induction changes are completed on the car hopefully improved drivability coupled with extra bhp. Have your cake and eat it!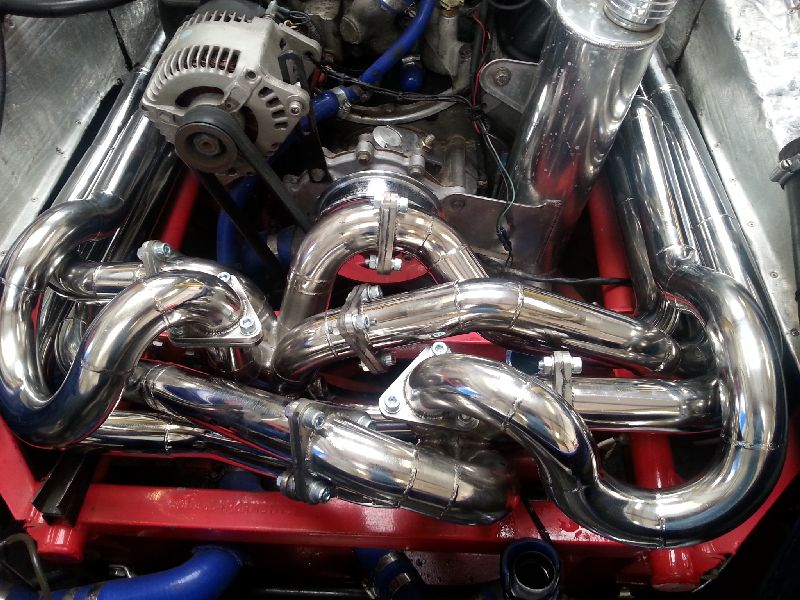 May
The lucas remapping keeps gaining momentum and another interesting car graces the Kits and Classics rolling road.
This Bowler Tomcat sports a 3.9 Rover V8 running the Lucas 14CUX ECU. A chip carrier was soldered to the ECU board and the Moates Ostrich emulator plugged in .. the engine was plagued with several weak spots in the map and a very poor idle / off idle response. After its bespoke remap it produced a healthy 146bhp, a really wide power band all the way to 6000rpm, and would take full throttle from under 800rpm without hesitation.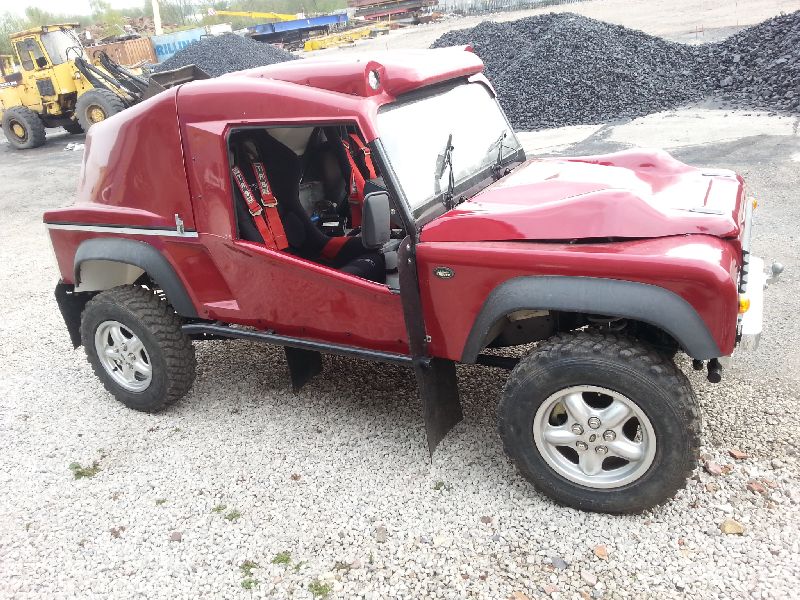 May
A Triumph Stag is going to benefit from the addition of mapped ignition in the next few weeks. This is going to be done in the least intrusive way possible, and so the distributor has already been changed to an optical triggering system which can then be used to synchronise the Megasquirt ECU .
Once the ignition side is up and running the ECU can be bespoke mapped on the rolling road for optimum performance economy and driveability. Then stage 2 will be to convert the fuel system to add a swirl pot and high pressure pump for the injection system.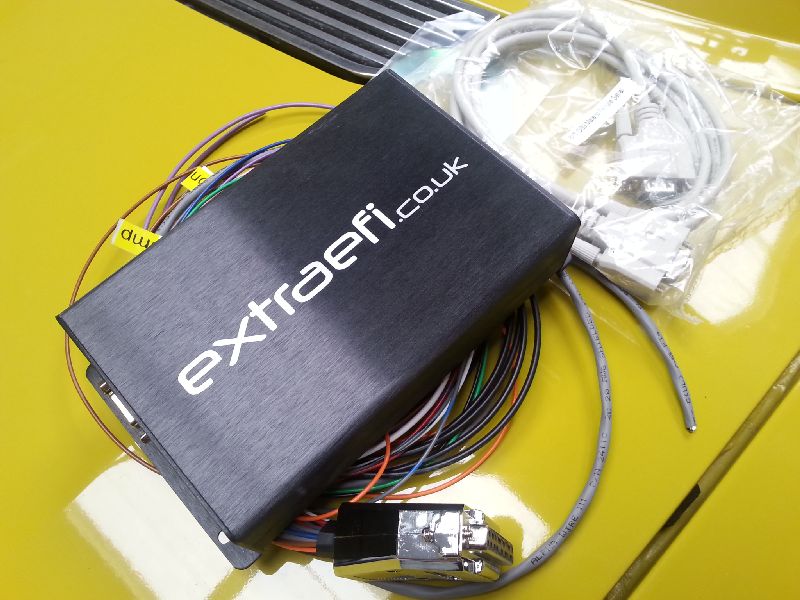 April
A rare 420SE visits the workshop for a run on the dyno. Initial runs showed very weak fuelling, but even so the power was healthy enough at over 270bhp. A bit of adjustment on the fuel pressure regulator saw the mixture come nicely safe, and power improve to 286bhp. This engine really revved well, with peak power at 6000rpm. All in all a great result.
April
A car previously seen in the workshop a couple of years ago returns with it's new owner. The 4 litre Chimaera sports an Emerald K6 ecu and an intercooled SC Power Supercharger set-up.
Some issues with the standard idle control valve were causing weak mixtures on idle and light throttles. Because the extra airflow is seen as a greater percentage airflow increase at small throttle openings this can really upset the driveability. The decision was made to replace the standard Rover IACV with a superior Magnetti Marelli version.
Also the new owner is taking advantage of the 3 map facility in the latest K6 Emerald ECU and we are making a weaker cruising map and also a map with pops and bangs on overrun for those hooligan moments. This is icing on the cake for a car that aready delivers amazing performance. Here's the graph from the last time it visited the rollers here at Kits and Classics.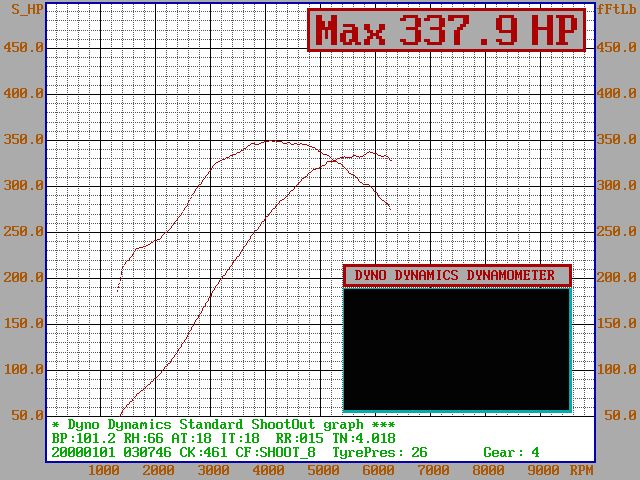 April
This Mx5 is co-owned by two people who are going to be using it for sprints and hillclimbs. It's also road registered so is also a fun road car.
The ecu is Megasquirt MS2 , the engine has a skimmed head, bigger cams and bike throttle bodies. As is often the case when cars turn up for mapping the engine wasn't running well, and an air pipe/breather issue meant too much air and an idle that was at 1400rpm with butterflies closed.
Once it was all set up though it went onto the dyno. First run of 80bhp was down to being massively over-rich and retarded. The ecu was supplied with a base map but it was obviously not right for this engine spec. In the end it recorded a healthy 135-138bhp after remapping.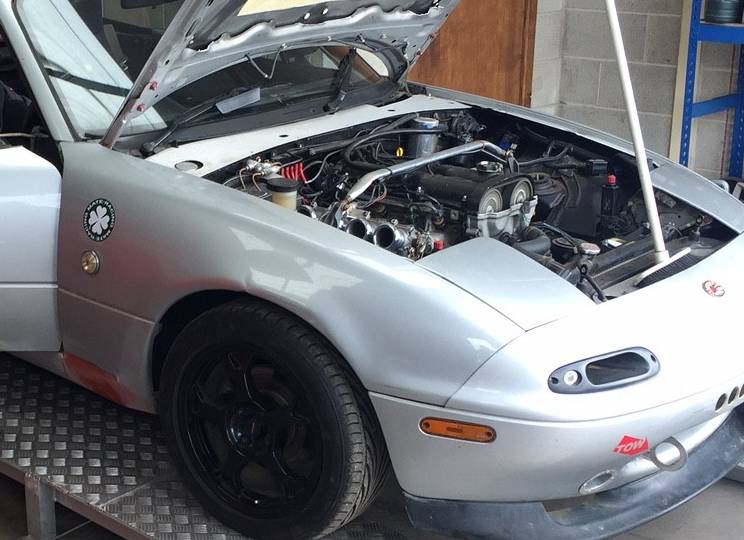 March
There's still a steady stream of Cerbera 4.5 AJP cars that turn up for remapping and Whirlwind Induction .. though there can't be many cars left now that are still on their original long pipework.
This recent Cerbera made it over 400hp, and a few extra pops and bangs were added to the overrun soundtrack at the customer's request.
It also sits on Kits and Classics supplied Protech double adjustable dampers and track orientated spring rates. A perfect blend for road and track.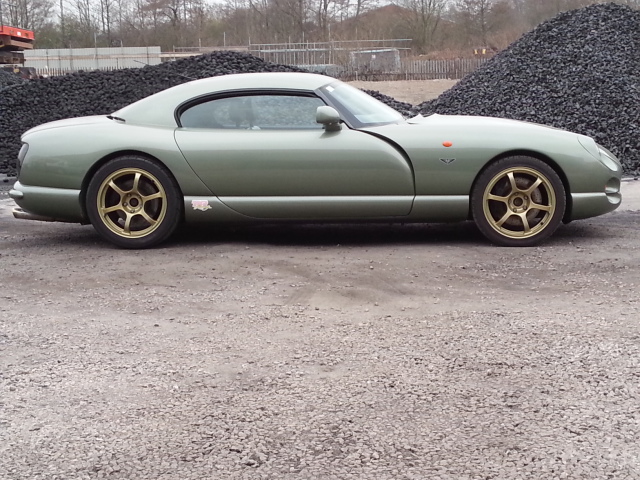 March
A nice Tamora 3.6 visits for MBE ECU remapping. The SP6 cars were nicely mapped from the start, but each car can vary slightly so a bespoke remap can still give good improvements to economy, driveability and power. Prices from £600.00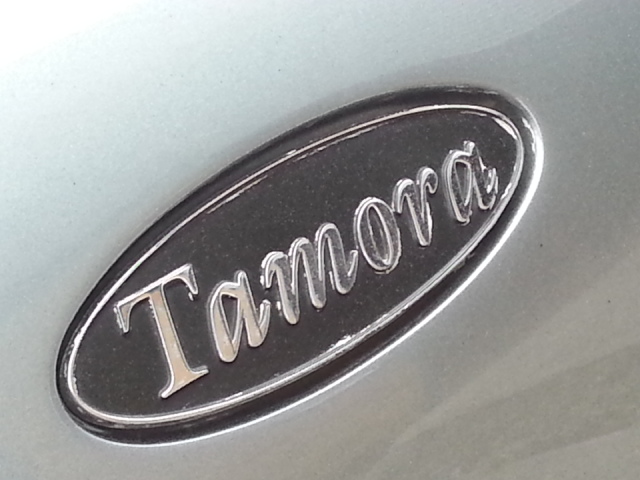 March
An LS powered Cerbera visits us for some ECU trickery this month. Nice engine bay too!
March
Turbo Chimaera Lucas remap.
A bit of an unusual project for us here. Lucas remaps are something we are building more and more experience of, but when we were asked to map a Turbocharged Chimaera on the original Lucas ECU it sounded a bit of a stretch for the ECU's capability.
In the end , and despite a bit of misfiring caused by a faulty ignition coil, the actual mapping process proved to be relatively straightforward.
The icing on the cake was a solid repeatable 320bhp and 350lb.ft
March
Spurred on by the excellent power produced by the nicely tuned Chimaera 4 litre earlier in the year we have put together a combined induction and remap package for the smaller engine Chimaera.
This combination gets you one of our own 38mm blended bases, a full ACT induction hose kit and a bespoke remap for 650.00 all in. This is for a fully fitted drive in drive out package which should nett around 20hp onto an otherwise standard but healthy engine. That's great value for Rover V8 tuning in anyone's book.
February
There's been a bit of a rush on bespoke suspension sales the last few weeks ..
In keeping with our tradition of delivering just what the customer requires we have asked Protech to make some new rubber bushed damper ends for us .. these allow the softer compliance of rubber on the 600 series damper with 16mm rods, a combination which until now hasn't been available.
We now offer an even more compliant damper version which means we provide what we consider the widest range of suspension variations to sports car owners .. everything from the softest to the very track focussed, and pretty much everything in between.
Three happy customers are about to take delivery of their bespoke suspension kits .. rubber bushed road kits through to double adjustable track kits are represented in this most recent bulk order. Remember none of the kits we sell are off the shelf one size fits all .. every kit is tailored to the individual requirements of the end user.
January
The first Lucas remap car of 2016 has been in and it was a real corker. In a break from the usual 5 litre cars we see this example was a 4 litre chimaera with St3 heads, 45mm intake and trumpet base and smooth induction pipework. Net result was a solid consistent 260plus bhp output with a best of 263hp.