STOP PRESS !!! TVR CHIMAERA GRIFFITH V8S
EMERALD K6 ECU FITTED AND MAPPED DRIVE IN DRIVE OUT CONVERSION NOW STARTS FROM ONLY £1895.00
Always Wanted : Cerbera, Tuscan, T350 etc Engine Management ECU. Please email if you have an MBE ECU to sell, many thanks.
December 2015
A lovely early Chimaera 430 came to us for Lucas ECU remapping. This car shows us the importance of periodically having your engine tune checked .. the car was running just fine but had given poor power on another rolling road and the mixture trace was variable.
After running it on our own dyno the run had to be aborted in the upper midrange. The mixture was indeed going way too weak to be safe, but was also costing power all through the rev range. The culprit turned out to be a faulty air flow meter, a unit which had just been reconditioned by a specialist firm. A good used meter was substituted instead.
The car was remapped to be nice and safe on the full throttle runs and also the mixture was adjusted through the whole of the rest of the rev range so that the lambda trimming was at a minimum. On the road testing showed that not only had the car picked up a significant amount of power (the best part of 50bhp!) , it was also even smoother on low revs and small throttle openings.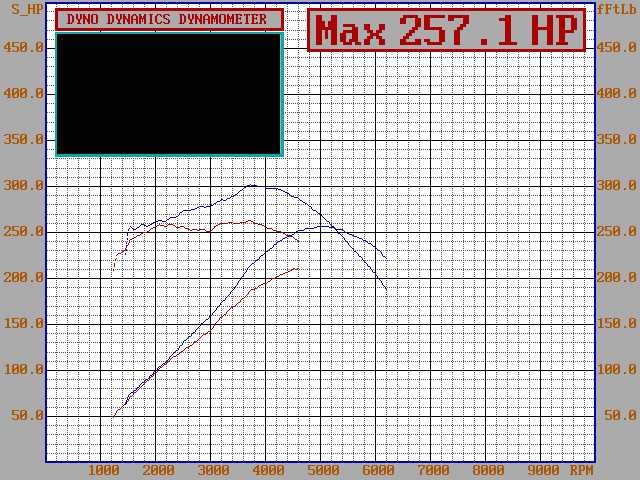 November 2015
Another rare car comes to us for remapping. This beautiful Dave Hillis (Plasticman) creation is a Sagaris Targa and is based on a Tuscan 4 litre. It came in with running issues, quickly traced to an injector feed issue. The car is also going to be remapped on the rolling road to make sure it's giving the best possible power, economy and drivability.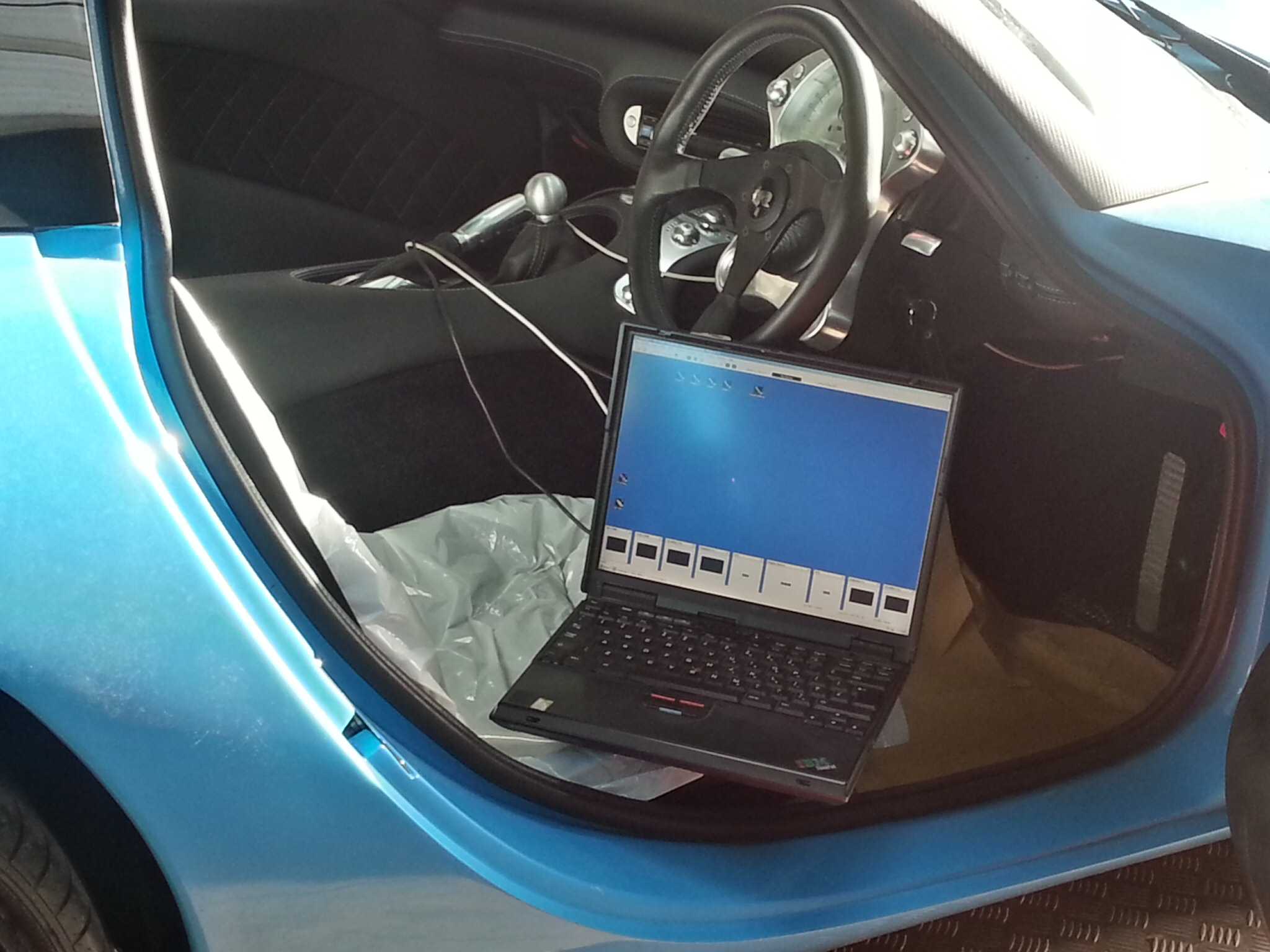 November 2015
With the prospect of a fair bit of welding coming up (bespoke exhaust system, and inlet system, for the race car amongst others ..) I've decided to do it properly and bought a little TIG welder .. now just have to brush up on those welding skills I last used over two decades ago!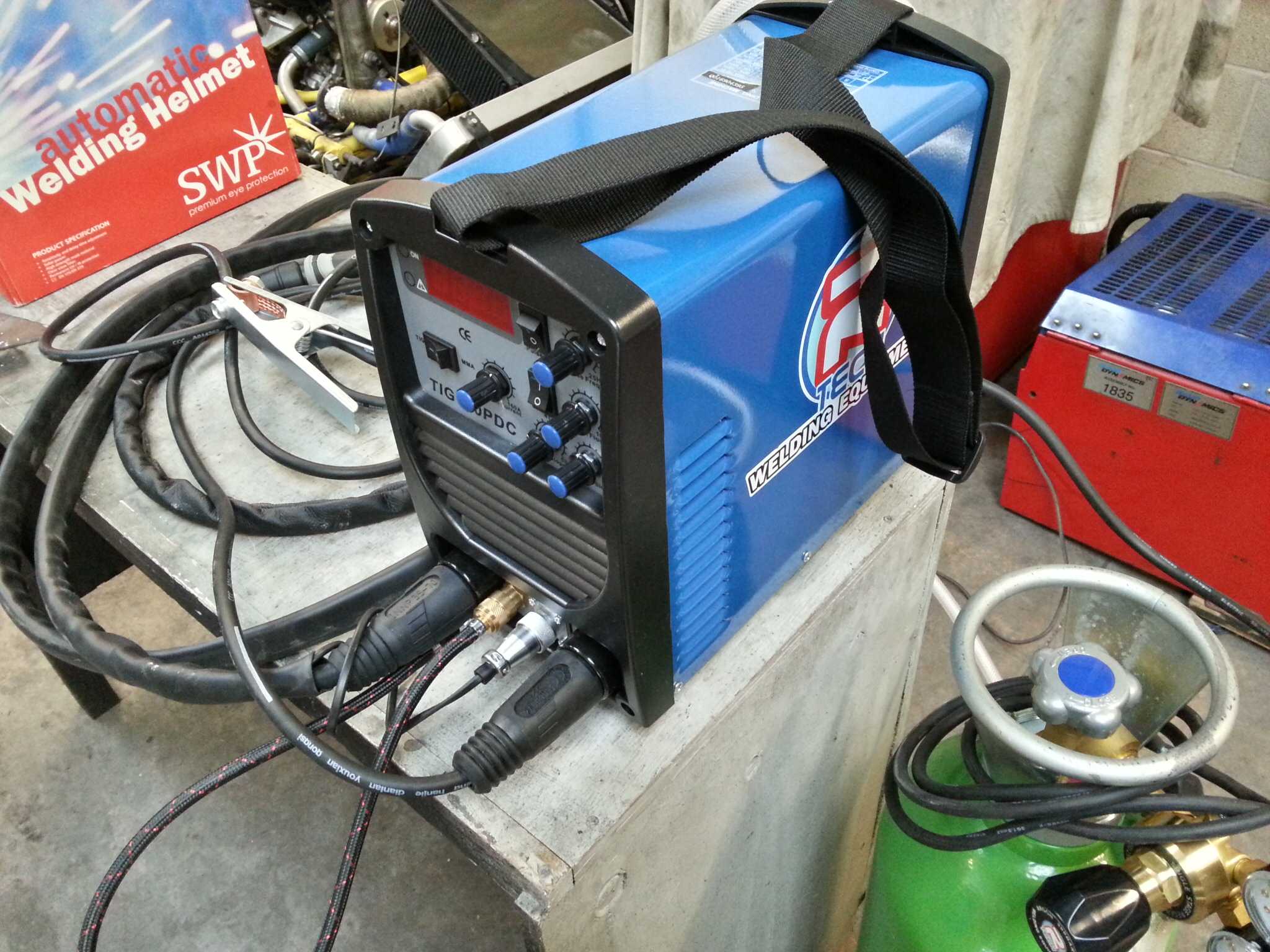 November 2015
Megasquirt to Emerald ECU conversions are something we do a fair amount of .. they're usually fairly straightforward as all the hardware is already in place in the engine bay, so some minor rewiring or a new full engine bay loom if the owner requests it, and installation of the ECU is all that is required.
You can also take advantage of the excellent 3 map facility, movable load sites, self learning fuelling etc etc. We are currently doing just such a conversion on a 4litre Turbocharged Chimaera. The owner was struggling finding someone who would map the car on the dyno with the existing Megasquirt ECU system, but also the engine had idle speed issues and it wasn't hard to persuade him to make the upgrade to the Emerald K6 ECU.
November 2015
A customer came to us with an unusual request.. He required his Cerbera to make lots of noise at the car shows he visits as part of the "Rally For Heroes" tours .. revving to a high (but not overly high) rev limit, pops and bangs when lifting off the throttle .. that kind of thing.
This isn't possible on the standard MBE ecu so we offered to swap that out and fit the Emerald K6 ECU with it's 3 switchable map facility. This allowed us to dedicate one map solely for Exhibition Mode and fill it with dramatic noise. We are pleased to say it's worked brilliantly.
The 3 map switch is located on the centre cubby panel allowing on the fly choice of a standard map, a fuel efficient economy map, and that all important Exhibition Map.
The owner also specified the Whirlwind short induction kit, and with this fitted the car gained 50hp at peak power, and a whopping 70hp at the 7400rpm rev limit. At this point the standard engine output was falling away very rapidly, and whilst we acknowledge that being able to take advantage of that extra 70bhp will only be for a brief instant just before changing gear, it's nice to know you can hang onto a gear and not feel the rate of acceleration diminishing like on the standard set up.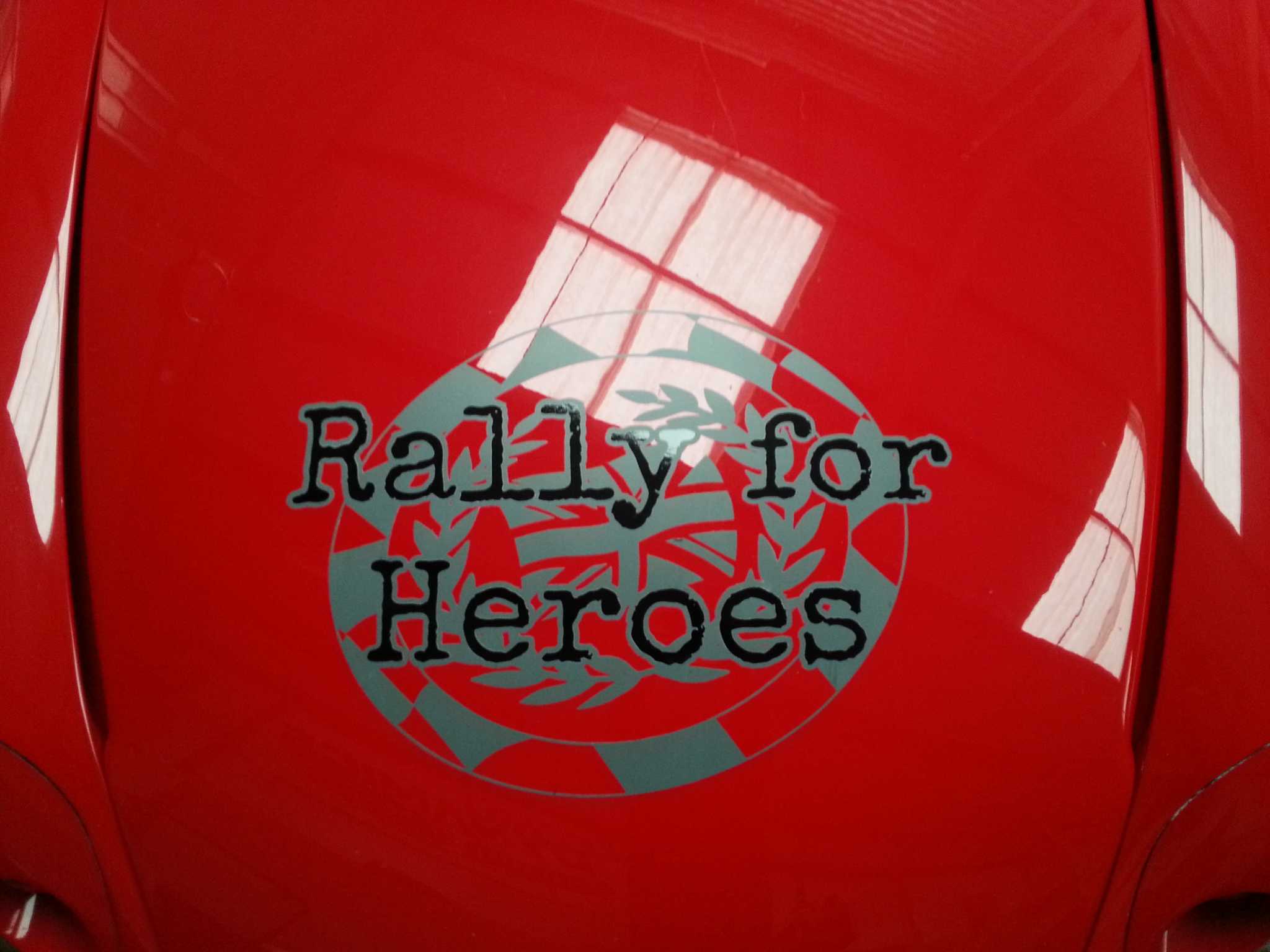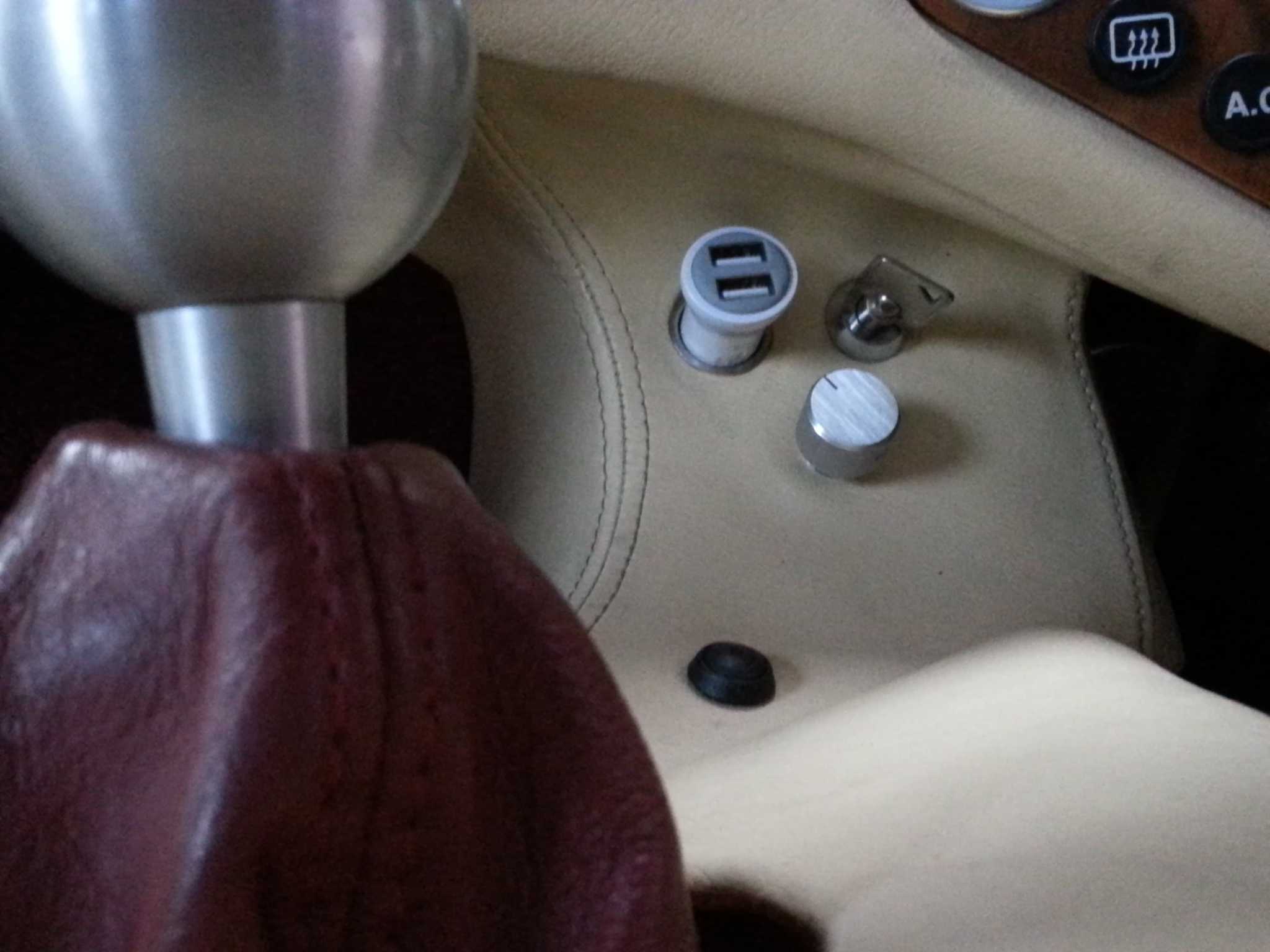 October 2015
The owner of the Triumph Stag featured in an earlier news item returned today with his Stag engined TR5 for a few runs on the dyno. Once again another home-built engine performs faultlessly and gives a healthy 215hp consistently.
Like the Stag, this engine made it's power on less advance than it was originally presented with so proving the worth of having your engine tested on the rolling road..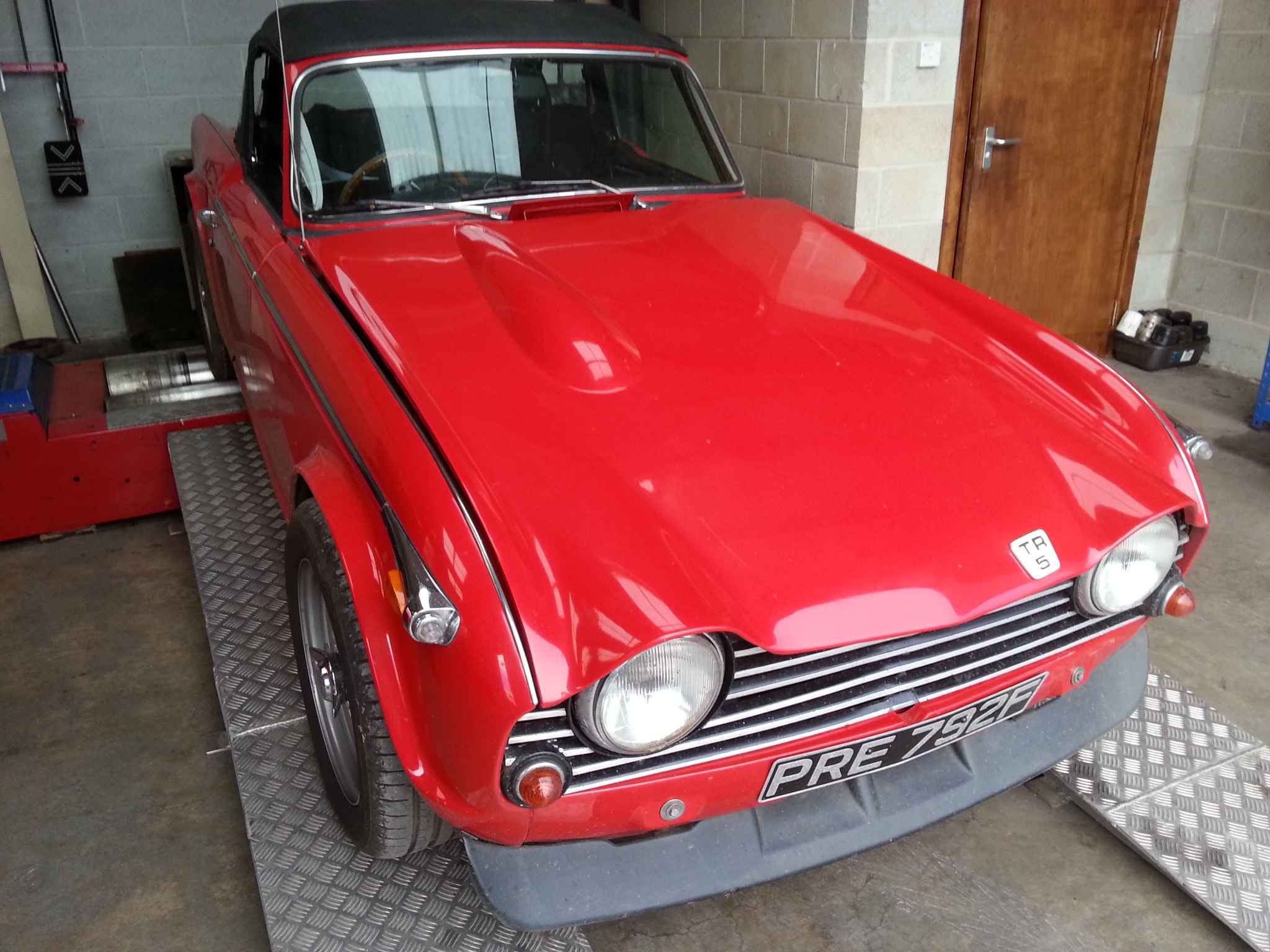 October 2015
The Tuscan race car finally made it onto the dyno for base power level testing before a program of changes take place in the engine bay.
Firstly the dellorto carbs will be changed for a new injection system of our own design allowing easy quick induction length changes to be made on the dyno. The idea is to give us the best overall power delivery characteristics and then take that info to make a new induction system for all Rover V8 cars. The exhaust system will also be changed for something which will hopefully broaden the power delivery and make the best use of that lovely dry sump 5 litre engine. At the moment the exhaust manifolds are of the 4 into 1 design but we would like to try some alternative designs and see what works best for us.
First runs on the dyno showed 325bhp at the wheels which is ideal for class B of the DTEC Tuscan Challenge so we would ideally like to keep that peak power but spread more of it down the rev range too. Development like that is never easy because at lower revs the engines are not breathing limited, so getting more cylinder filling isn't straightforward, but that's the fun part!
September 2015
Absolutely amazing Triumph Stag!
We've had a Triumph Stag in on the rolling road and have been blown away by the power from this owner-built engine.
The car and owner are well known in Triumph tuning circles and the engine has out-performed just about every other tuned Stag engine out there, but the owner had never really optimised the map on the rolling road before .. hence the reason the car came in to us.
I ran the dyno whilst the owner sat in the passenger seat and worked the megasquirt tuning software. In reality the map was already very good, the owner had done a good job already! A little bit of mixture tweaking saw it nice and safe through the whole rev range. Also we found that it was running slightly too much advance through the midrange, it made the same power with a slightly safer ignition map in there. Additionally it was found that slightly more advance right at the very end of the map helped the peak power (for pub bragging rights!)
In the end the car gave the graph below. Stunning power from what are just essentially sensible mods on a road driveable engine. A real credit to the owner.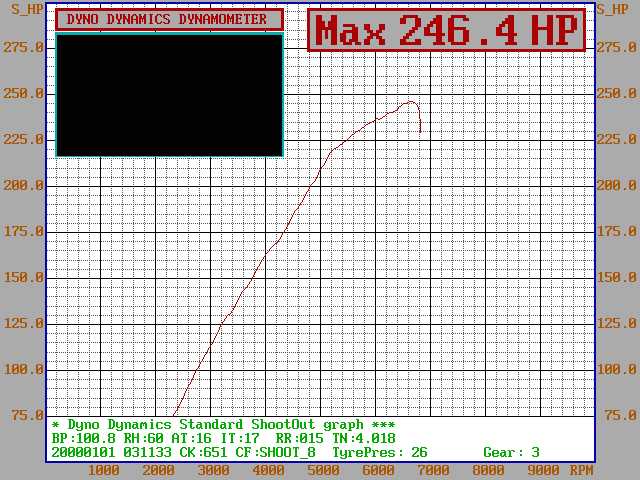 September 2015
A lovely Rover P6 visited us for remapping .. The owner had removed the carburettors and fitted a Lucas 14CUX injection system. We are able to remap these older injection systems on our rolling road. The basically standard engine gave 150bhp when finished, not too bad.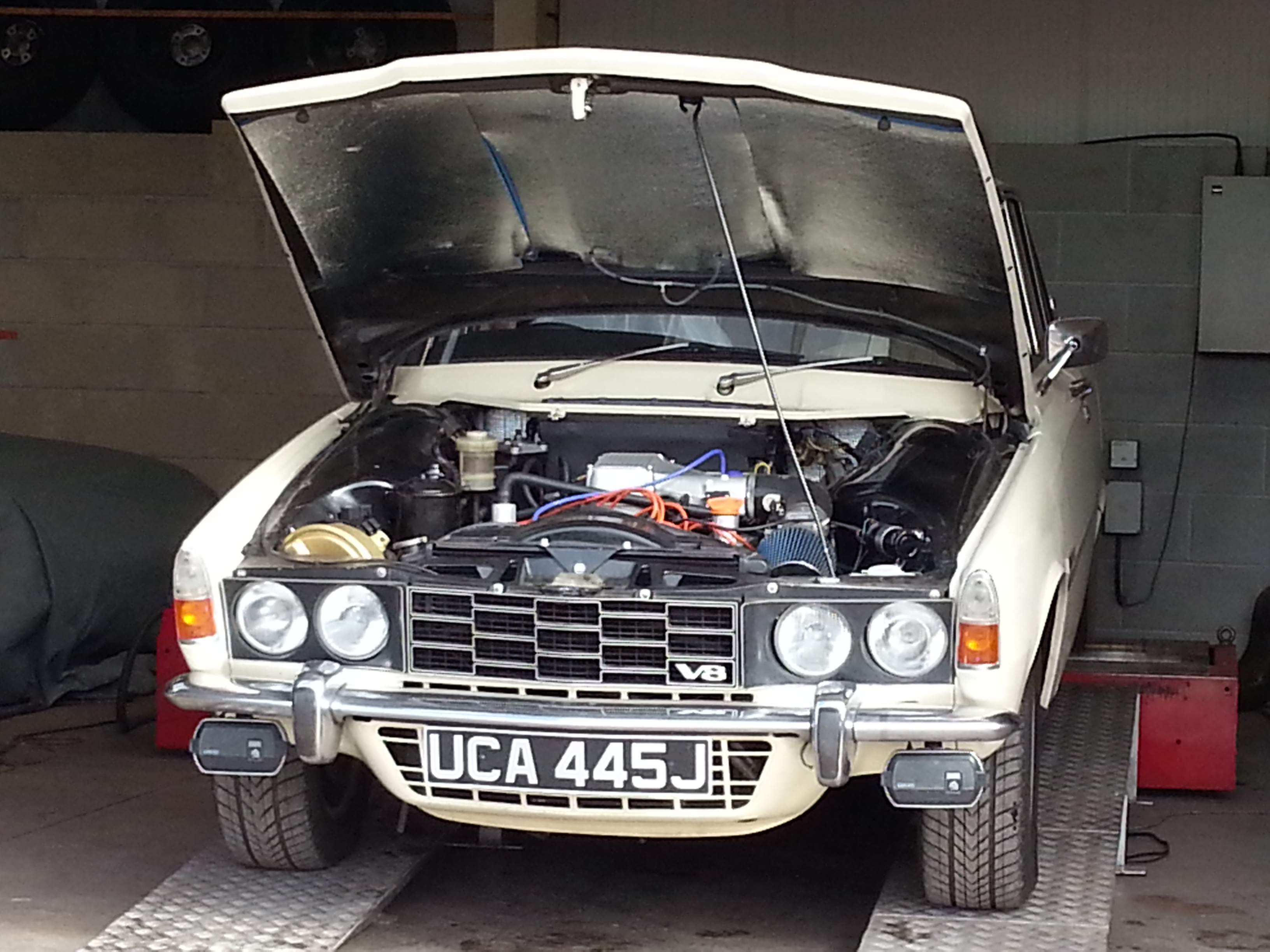 August 2015
Another 2 sets of double adjustable Protec dampers have been ordered this month. We believe these are the best value performance damper on the market, allowing true independent control of compression and rebound damping. See our Suspension section for more details on our Protec suspension offerings.
August 2015
Carbon Performance Airbox for Speed Six Engines
The new Carbon Fibre short induction airbox for Speed Six engined cars is about to go in to production. The new moulds are finally finished for the airbox top. The lower portion of the airbox will follow the same pattern as the standard airbox already available but with a front feed to take air from the high pressure area at the front of the car. Bespoke front feed pipework will be available depending on car.
We have conducted extensive rolling road testing on this short airbox design and we are confident that it's upper rev range performance cannot be beaten.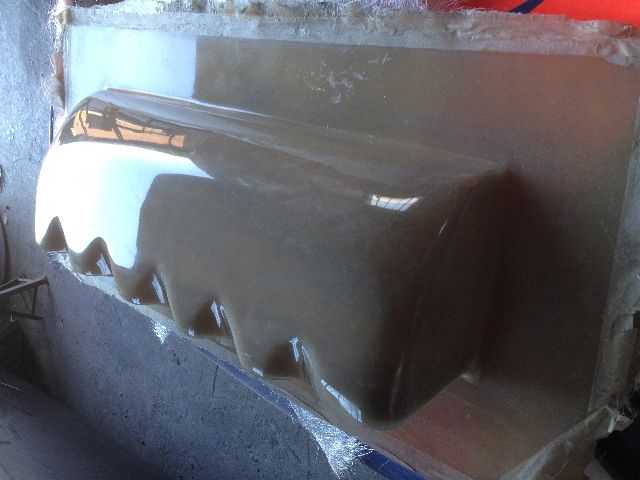 August 2015
Two new cars have been added to the fleet ..
Firstly a Cerbera 4.2 Red Rose. Wait What!? There never was a 4.2 Red Rose was there? Well no, but a customer had rebuilt the engine of his lovely 1998 Cerbera 4.2 and incorporated a few choice changes such as skimmed and ported heads and inlet manifolds, Total Seal piston rings and that all important Red Rose Switch for the dashboard. It's what the factory might have done had there not been the 4.5 ! We have yet to put it on the dyno for mapping but we hope it delivers great power and the good driveability that the 4.2 is famous for.
Secondly a genuine Tuscan Race car. This is a 5 litre Rover V8 powered car that has been seen out in the Dtec race series, fitting into Class B. Fun times ahead.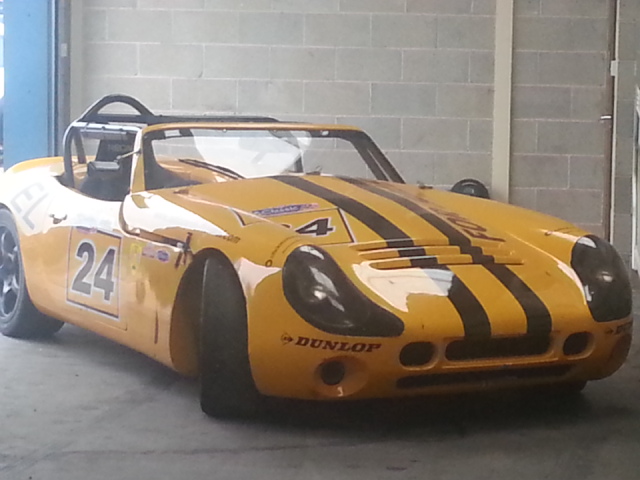 August 2015
Another beautiful Sagaris visits for ECU remapping, but with the added instruction to make the pops and bangs on overrun even more prominent. I'm pleased to say this has been a million percent successful!! The overrun soundtrack is now epic! The power output of 384hp after mapping is also excellent.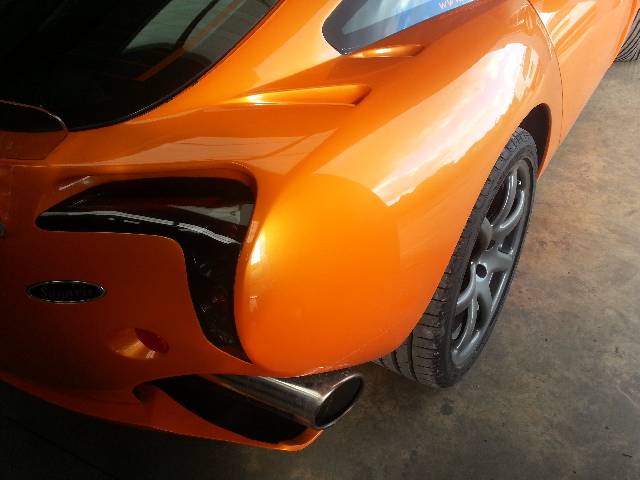 July 2015
High power Cerberas are something we know all about at Kits and Classics .. we've seen most of them through our door at some time or another.
The latest car to run on the dyno was something we were very interested in as the cylinder head work was done by my own fair hand a few years ago, but the car had never ventured on the dyno since.
The end result of 423hp and 385lb.ft on our short induction system was good to see and makes it one of only a handful of road based AJP8 engines to genuinely break 420hp, which is the bhp TVR claimed for the standard car !! (most standard cars manage around 340hp in reality ..)
The long induction results were 406hp and 395lb.ft.
In fact the dyno run was part of a comparison for the owner to see whether he should go for short or long induction pipework and as such the remapping carried out was only a quick job to get us somewhere near. The engine may well make even more once we have worked some more magic.
Happy days.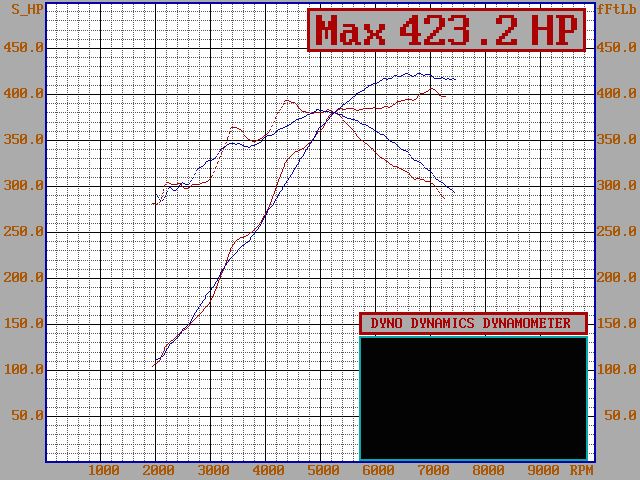 June 2015
A slightly famous Cerbera is at the workshop for a little bit of magic. This Cerbera has a 4.7 litre AJP8 engine built by a previous owner and was featured in a music video back in the day. It also run nitrous oxide injection for that added scare factor.
The car as presented had a series of running faults - plug fouling within a few hundred miles and misfires. On investigation it was found that the fuel map was a very weird shape, incredibly rich all through and causing the ecu to trim to its lean limit and still not reaching lambda=1. A new set of coils, HT leads and plugs saw the power rise to 407bhp still on a very rich mixture. This looks like being a very powerful engine once mapped up properly. The Whirlwind induction will add the icing to the cake too.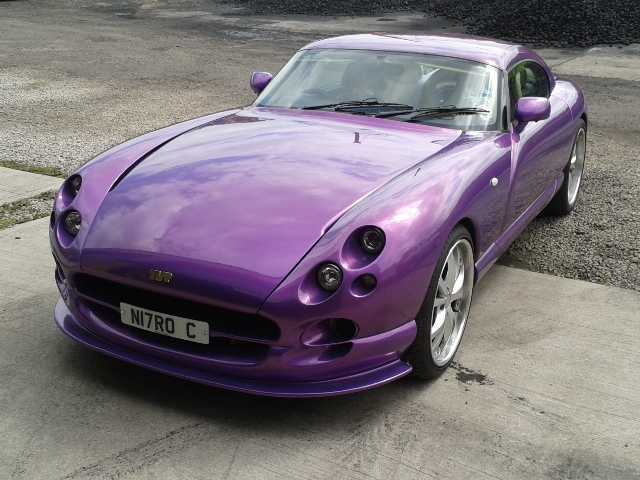 June 2015
A familiar sight on the rolling road is this Elise race car .. in for a spot of cam timing testing with recently fitted vernier cam pullies, a task made easy with the rear body section removed. The cams were initially timed in to figures suggested by K series guru Dave Andrews and sure enough moving the cam timing only gave worse results than the initial settings did. It's good to know that when an expert engine builders give some advice it pays to listen.
As usual, the car gave no issues at all .. and the Emerald K6 ecu is always a dream to map.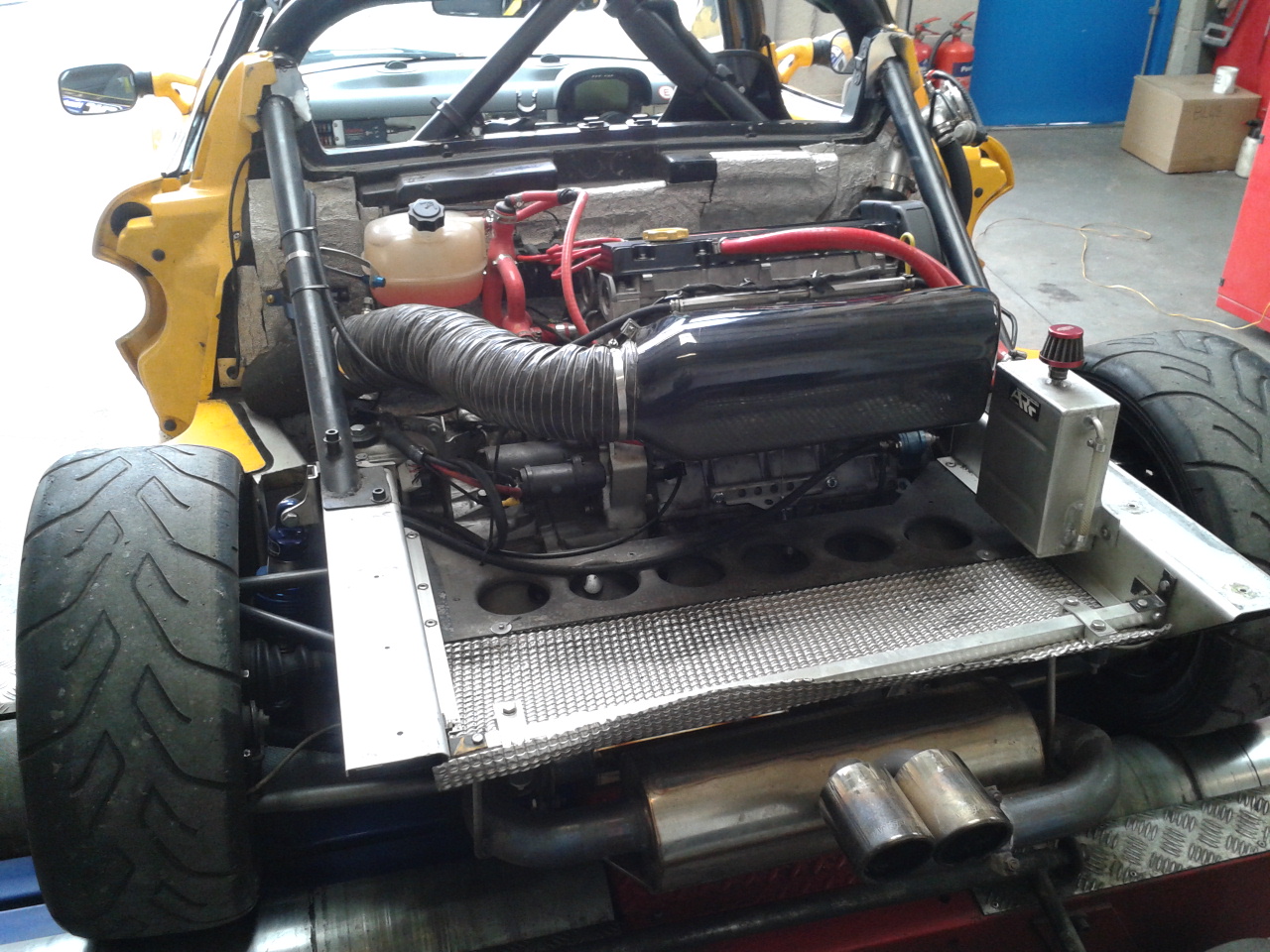 June 2015
A lovely Mk1 Escort graced the dyno the other day. This car was created by Steve Howard for Jeremy Clarkson / Top Gear before being sold on to the current owner. I can't tell you how much power it has, but it's enough !
June 2015
I am pleased to announce the new short intake Speed Six airbox top is soon to be available ..
Fabricated from Stainless Steel, these airboxes run the short inlet length proved on the track with the Race T350R.
These will be workshop-fit only in the beginning until I can build up a database of ECU mapping changes and as such will be offered to early adopters at a discounted rate .. airbox top fitted and full ECU remap £ 1200.00 (usual price £1350.00)
May 2015
A sudden rush of orders for Whirlwind Induction kits earlier in the year saw both ourselves and our supplier running out of stock! I'm pleased to say though that nearly 1000 Pounds worth of hoses has just turned up at the workshop. Many thanks to those who have patiently waited .. Whirlwinds are on their way !!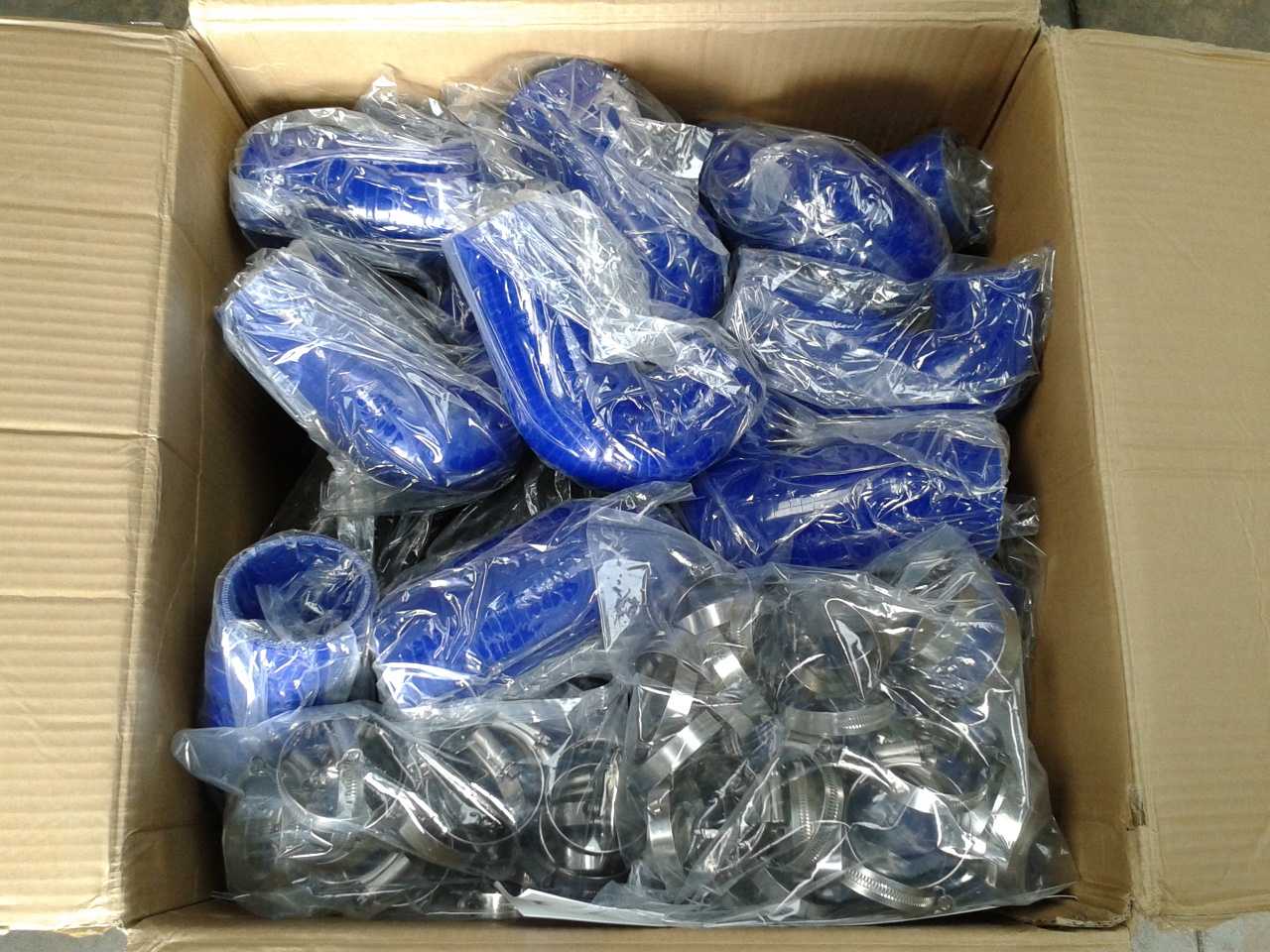 May 2015
A Chimaera has recently visited for fitting of this very rare JE alloy plenum and an Emerald K6 ecu. The car has never driven well on its previous Lucas Ecu, Bosch air flow meter and remap (not by us !) and the owner was keen to find out 1) how much extra power the ecu and plenum would deliver and 2) if the ongoing running issues could be resolved.
Sadly with plenums and wild cams (this engine sports an H404 cam so pretty wild for a road going Rover V8) the low speed driving is never going to be great, and sure enough at under 1500rpm on the very lightest throttle openings the dreaded shunting is still there, but over 1500rpm or more than a few millimeters of throttle travel the engine is sweet and smooth.
What's more it now makes 345bhp from its 4.5 litres, up 15bhp over its previous specification but with hp gains through most of the rev range. The power holds well at the top end and doesn't tail off at the self-imposed limit of 6400rpm. Looks like stronger conrods might be the next modification for this engine, then ride the peak power hump and make use of those big numbers high up the rev range.
The engine bay looks pretty special now too ..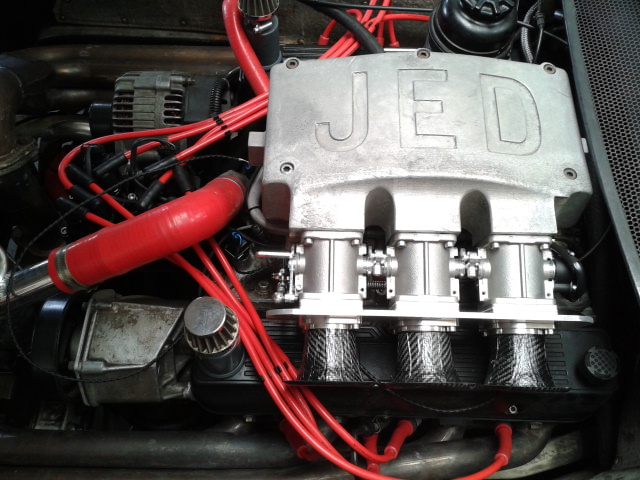 May 2015
The record for the most powerful normally aspirated Rover V8 engine to run on our dyno has been well and truly smashed!
A John Eales built 5.2 litre engine running x-over manifolds, Jenvey throttles and ACT exhaust has just upped the maximum power by 20bhp over the previous best result held by a DTEC Class B Tuscan Challenge race car.
May 2015
The racing season is nearly upon us, and a new (to us) racer has arrived at the workshop.
The S3erbera is a hybrid racer .. a shortened Cerbera chassis houses a 4.5 AJP8 built by Str8Six. The body is a marriage of S3 centre section with Tuscan race car front and rear sections. A misfiring engine cut short the early mapping progress but now this is sorted we can go on to unleash the power !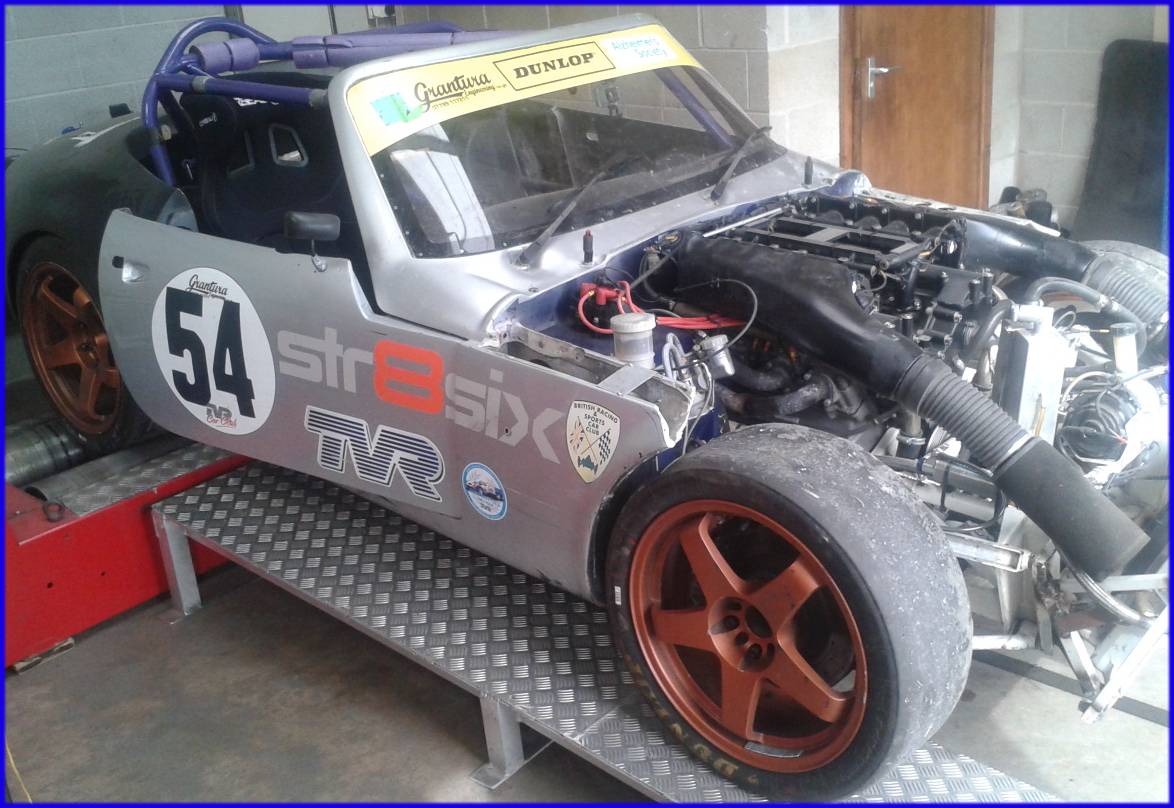 March 2015
The cleanest Chimaera we've ever seen was presented for our 20AM air flow meter and Lucas remap upgrade package. The short stroke 5 litre from V8Developments made 325hp. A fabulous car and a great bhp figure.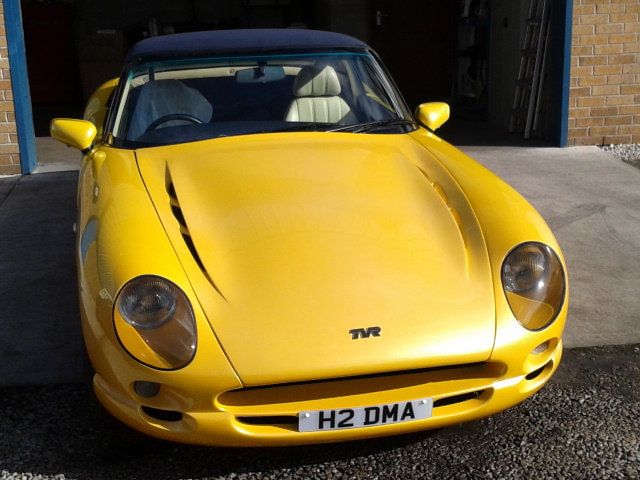 February 2015
A lovely Rover SD1 Vitesse was delivered to us for what was hoped to be a simple mapping session. The car had previously been fitted with a fuel only KMS FA23 management system and it was virtually undriveable at light throttle and slow speed. The ECU had been set up in throttle v engine revs and for this to work properly the throttle signal must very accurately follow the movement of the throttle spindle. Sadly on this car the spindle end was very badly damaged and an incorrect throttle sensor bodged onto the plenum to the point that the spindle needed to turn some 5 degrees before the signal at the ecu changed.
A decision was made to swap onto a good used hotwire type plenum with the later throttle sensor running directly off the spindle end. The result is a throttle signal which now correctly follows throttle inputs. We can now go on to map this car on the dyno.
Sadly the damaged throttle spindle had been missed by the three other garages that the car had visited. Hopefully when the owner gets his car back he will be able to enjoy the driving experience, instead of the bucking bronco the car had previously been on light throttle.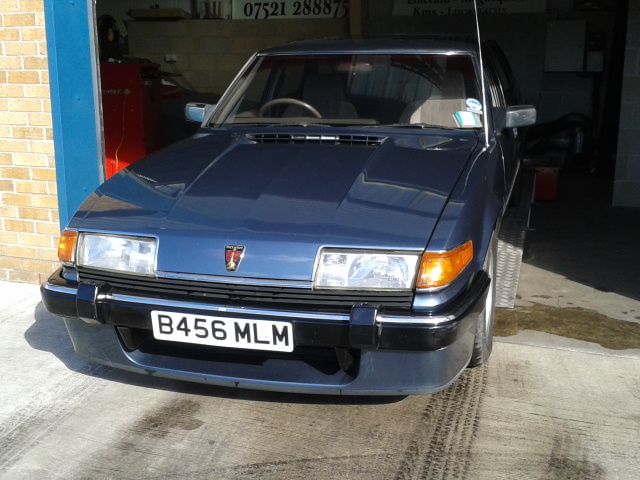 January 2015
Kits and Classics would like to wish all our current and future customers a very happy 2015 !!
October 2014
A rare TVR T400R race car is making an appearance at the workshops. We have been tasked with making this famous car run once again and find out what power it will make on our rolling road. There are special plans for this car with its new owner .. a piece of race history is preserved for the future.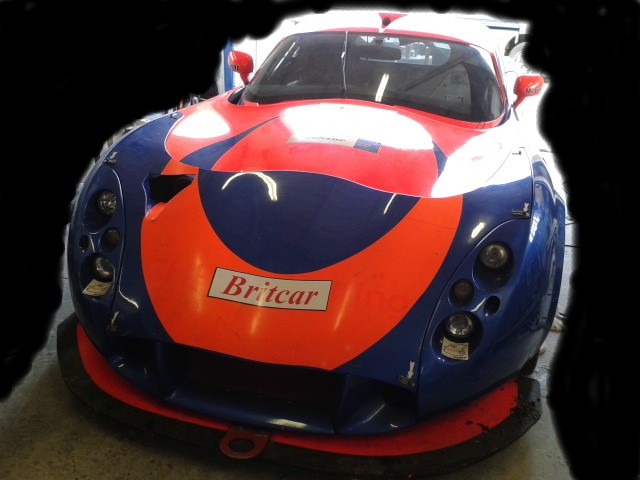 October 2014
Congratulations to Howard Barnard who has just won the Class B section of the TVR Speed Championship in his Kits and Classics mapped Griffith 4.6
See Howard's Castle Combe run here:
October 2014
The list of interesting cars in for mapping keeps growing with the delivery of this 5 litre Marcos on JE / Jenvey 8 throttle crossover inlet manifolds and Emerald K6 ECU.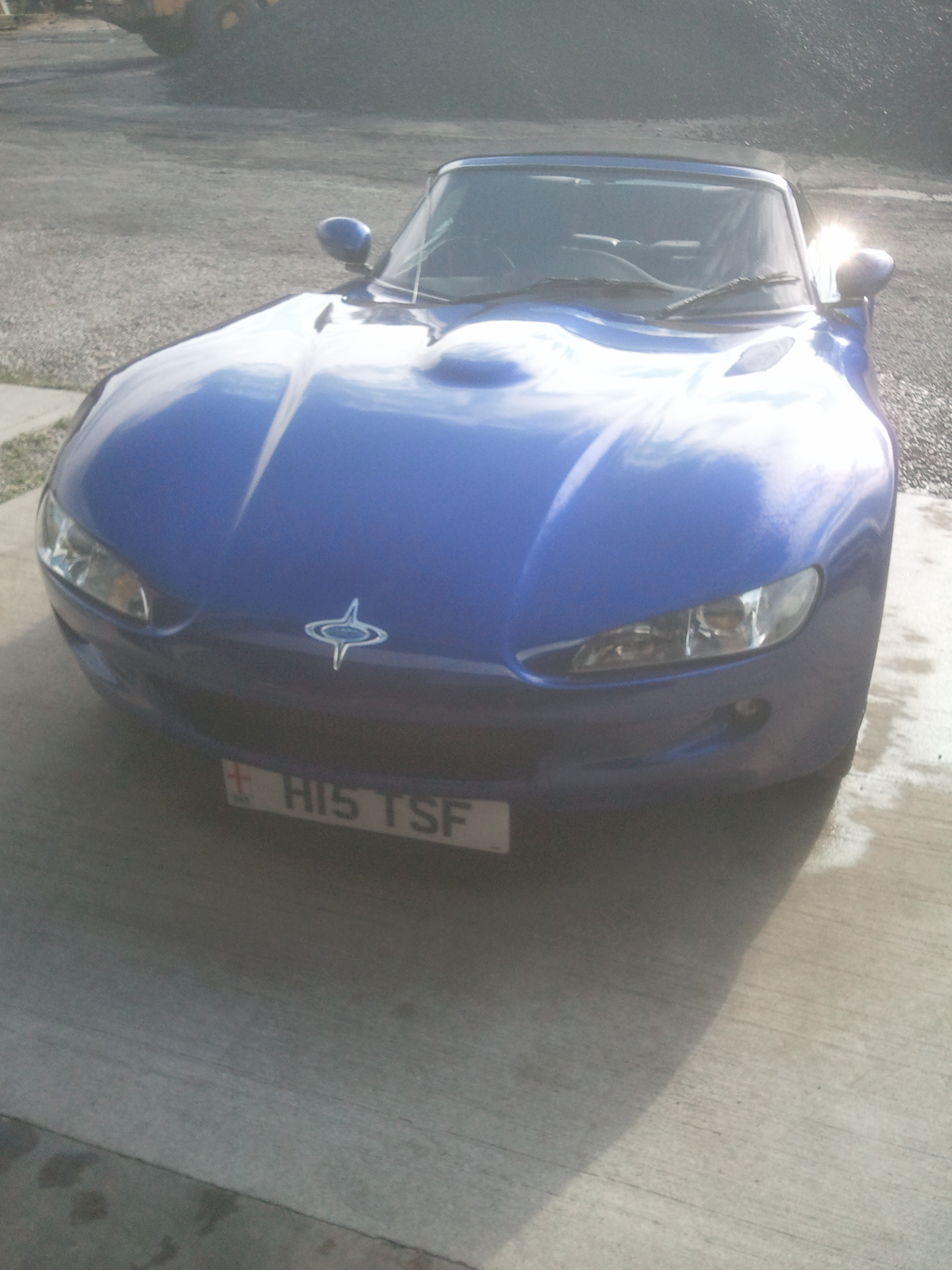 August 2014
Kits and Classics will be displaying their ECU mapping capability and Suspension kits at the Neil garner Open Day on the 27th September 2014. Please come along and see how we can make your car faster, safer and more economical too!
August 2014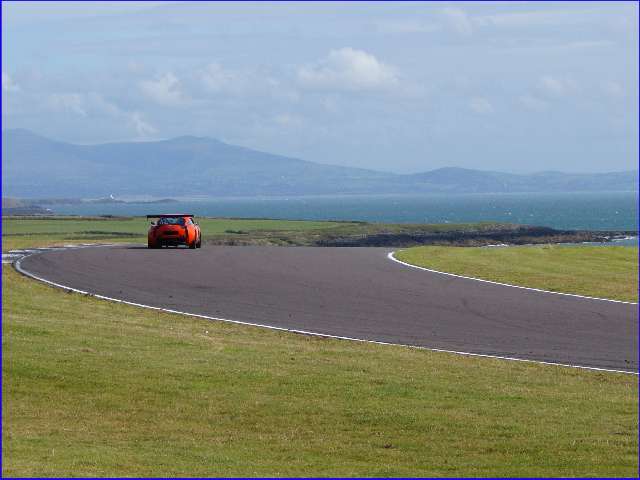 A weekend of ups and downs from Anglesey Race Circuit this year.
The car was fast, once again fastest Class B runner by quite some margin, and driver Cliff Jobson put the little T350R fifth on the grid .. another class pole position and breaking the class lap record into the bargain! A fifth place finish and a class win in race one was a worthy result.
Race 2 on Sunday morning was played out in mixed conditions and Cliff used the nimble handling of the T350R to good effect working his way up to an almighty second overall by mid race. Only Darren Smith (who had played a blinder by going out on wet tyres) was ahead. In the changeable conditions just after the halfway point in the race we were the fastest slick tyred car out there and moving ahead of all the other class A and A+ cars. Wow! Sadly a very minor slide after the pit straight put Cliff onto the grass, and an unkind bump in the grass meant several seconds were lost before rejoining the track back in fifth place again.
Race 3 late on Sunday was once again in the dry and the power of the little 3.6 and old tyres wasn't enough to keep on terms with the class A and A+ cars so a 6th place finish and yet another class win with a car jumping out of second gear randomly was still an excellent end to the weekend.
We have now secured second place in the Championship in Class B and the T350R has been first in class in every race it has finished this year.
Watch the video :
July 2014
COPYCAT WHIRLWIND INDUCTION KITS
It has come to our attention that someone is selling a set of hoses very similar in appearance to our world famous Whirlwind Induction kits for Cerbera 4.5
The other kits are for sale for a similar price to our own kit so it's not even as if you're going to save any money. We also provide you with high quality clips and more importantly a remapped ECU chip based on our data from many years of Cerbera remapping. The other kit appears to have no ECU chip included.
We urge you to only buy your induction and cooling kits from ourselves or ACT .. we work hard to bring you the best quality components .. we are developers and we carry the costs of all the hard work in bringing these kits to market.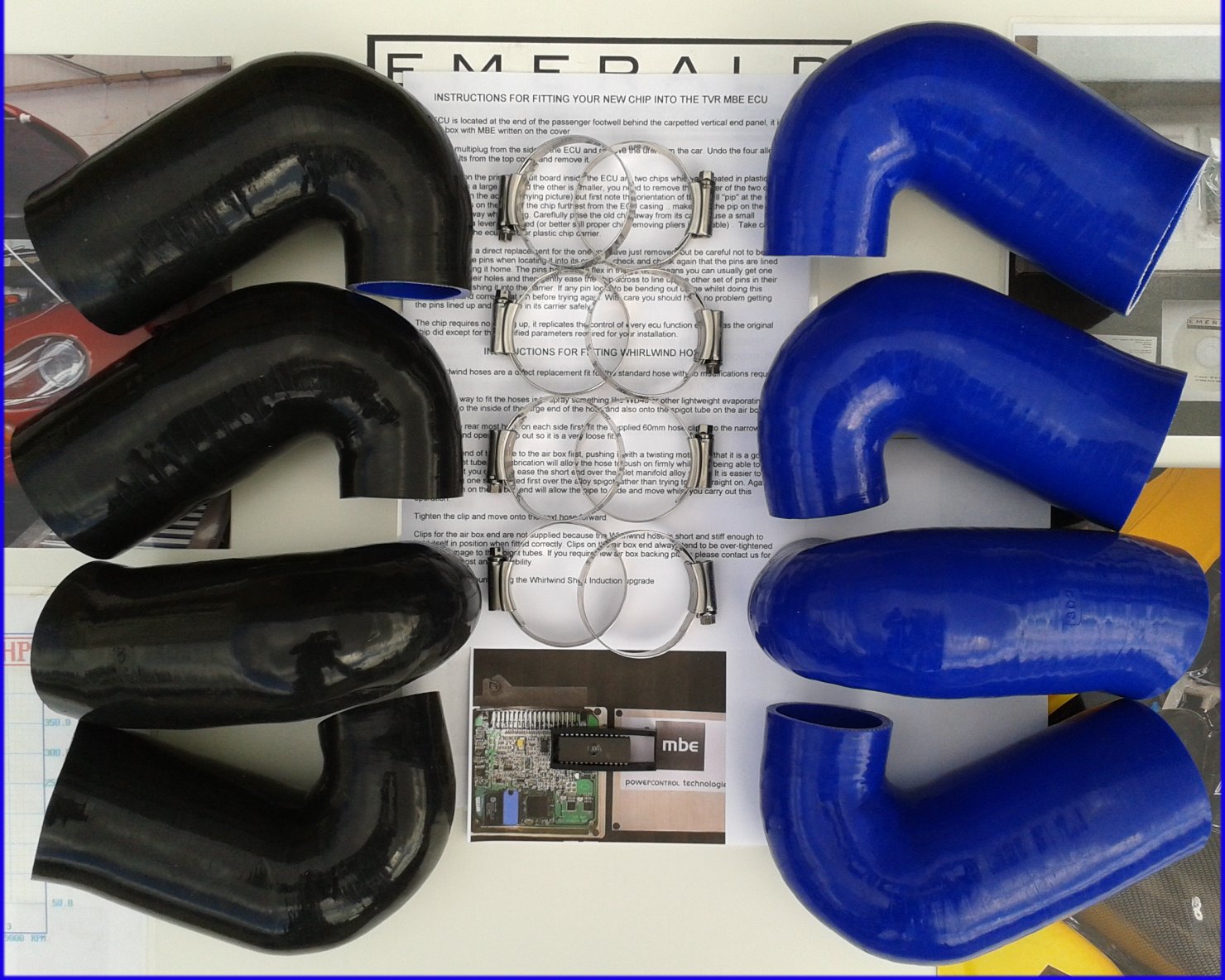 July 2014
Sadly a mixed weekend for us at Snetterton.
On the upside the car was very fast, 10mph up on straight line speed compared to the last time we were there .. and 5th outright on the grid and highest placed Class B car was a worthy reward in qualifying.
However in the race a gearbox failure and suspected engine damage meant an early bath for us all. The gearbox is an early original Glebe dog box and spares are becoming an issue so that gearbox might be an expensive ornament now.
Positives from the weekend are the blistering outright pace down the straights from the tiny 3.6 SpeedSix engine and ending up with an overall lap pace only 2 seconds down on the Straight6 Tuscan race car even going out on 3 year old tyres still.
The great news is that the T350R , with the smallest engine on the grid, potentially has enough pace for driver Cliff Jobson to trouble the fastest ClassA cars at the head of the field.
July 2014
We are heading off to Snetterton race circuit this weekend (12th and 13th) with the T350R race car. Please come and visit us in the paddock if you can.
July 2014
July seems to have become a bit quiet, a test car in for SpeedSix airbox testing didn't make good power pre-testing so all of a sudden the time put aside for that is now free..
So .. If anyone is thinking about having an AJP8 or SP6 Ecu remap now is the time to get your car in .. for this month only I willl be doing remaps on the TVR MBE ECU cars for only 450.00 instead of the usual 600.00, but you have to be able to get your cars in this month as by August things are back to normal ..
JULY REMAPS ON ALL AJP8 AND SP6 ENGINED CARS FOR ONLY 450.00 .. SAVE 150.00 !!
June 2014
A mixed weekend at Brands was expected with the T350R race car.
Our last outing was a test day at Oulton a year ago where the car spectacularly failed the noise test with it's new exhaust fitted. Total track time was about 10mins.
And so it was that a race-rusty Cliff ventured out onto Brands' tarmac over the weekend on tyres over 3 years old and with the smallest engine on the grid ..
Result : Class pole position on Saturday followed by two class wins on the Sunday and two fastest laps putting us sixth in the overall championship and second in class B. Phew!
Ask us how we can fit some race winning magic into your Speed Six.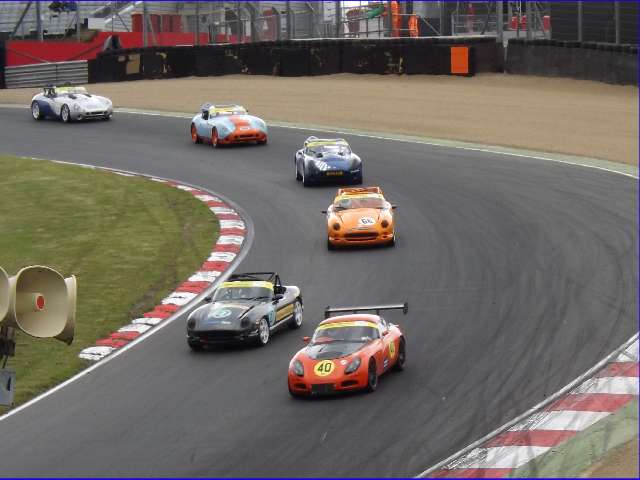 June 2014
Howard Barnard was out again hillclimbing his Griffith setting second fastest time (third on handicap) at the recent Wiscombe event
You can see (and hear!!) him in action here
April 2014
Powerful Sagaris
A customer from Germany has brought his beautiful Sagaris 4.3 in for ECU remapping. The engine is built by Jason at STr8Six and boy does it rev! The customer suggested that there might be some non standard cams in the engine .. well whatever is in there is certainly making the horsepower, and once again another engine from Jason performs perfectly on the dyno without a hint of trouble, excellent work.
So here's the graph .. the highest bhp Sagaris I've had on the dyno so far.
April 2014
We now offer an excellent value long induction to Whirlwind short induction upgrade path.
Because the closed throttle mapping remains largely unaffected by inlet pipe length resonance effects we can offer a drive in drive out service where we fit new Whirlwind induction pipes and remap the larger throttle openings on our rolling road. This service is only for cars which have already had a full bespoke remap on the existing long induction pipes at some point in the past. It is not suitable for cars running standard mapping, or those cars running generic ecu chips.
Price includes 8 new Black Whirlwind pipes fitted and bespoke remapping.
Whirlwind upgrade path for bespoke mapped long induction cars from £500.00
March 2014
Powerful Cerbera!
In the workshop is a Cerbera 4.5 for remapping .. nothing too unusual about that - it's the third cerbera in the last 2 weeks. What sets this one apart though is that it's just become the most powerful std 4.5 Cerbera that I've tested, topping out at 376bhp. The midrange is a bit lacklustre, and sure enough after checking the cam timing they are 6.5 and 8 degrees retarded, they're now set properly. Hoping for good improvements all round once it's back on the dyno and remapped.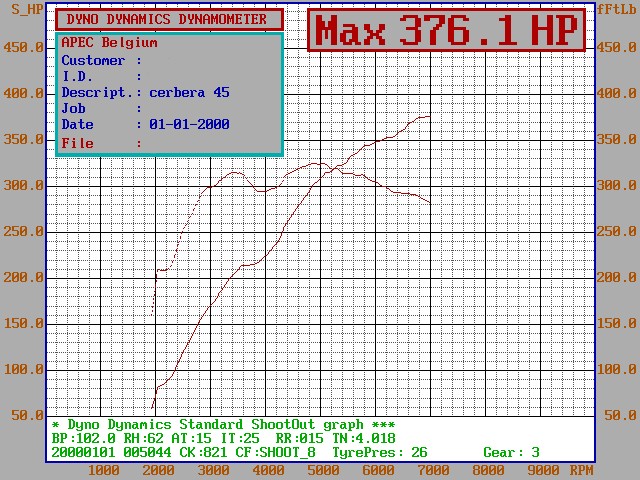 March 2014
Interesting day on the dyno with a Lotus Elise race car. It had just had a full engine rebuild by a respected engine build house but was not making the power the owner would have hoped for after initial mapping. The engine spec was good, with throttle bodies and a large airbox and filter, Larini exhaust manifold and Janspeed silencer. Testing revealed though that the airbox and filter were costing up to 12bhp above 5k rpm. The car came in for mapping and made a disappointing 166hp but shorter trumpets raised that to 176hp. Running no arbox raised power significantly and from our results we predict that with a better design of airbox/filter we will get it to 188hp... Still short of the 200hp the owner was expecting from the spec .. but it just goes to show you need everything working together to get the proper results.
February 2014
Kits and Classics will be exhibiting a selection of suspension, tuning and remapping options at both the Burghley TVR event on April 13th and also at the Griff Growl event at Ettington on July 5/6th. Come and say hello and discuss your engine tuning and suspension options with a one to one consultation.
On display will be
Suspension from Protech
Examples of our Rover V8 and AJP/SP6 engine tuning upgrades
Demonstration of Lucas 14CUX and MBE engine management remapping.
See you there!
February 2014
Damper only kits now available from 467.20 for single adjustable 600 series Protech dampers.
Keep your existing springs and upgrade your original equipment fit dampers. All Protech dampers offer ride height and stiffness adjustability and come with a manufacturer 3 years warranty. We believe they are the best value damper on the market.
November 2013
Megasquirt to Emerald ECU upgrade. We are being asked by a few people now about upgrading their Megasquirt ECU installs to something better. We can now offer a Megasquirt to Emerald K6 upgrade from £1250.00 fitted and mapped. You keep your Megasquirt ECU and original loom to sell on aswell so reducing the overall cost. The conversion retains your existing crank sensor/trigger wheel, coil packs, HT leads etc and replaces the Megasquirt control unit and engine loom with a new bespoke loom for the Emerald K6 ECU.
November 2013
Following successful testing on both pre-cat and catalysed Griffiths we are now in a position to offer Lucas 14cux remapping on Rover V8 engined cars up to 250bhp (4 litre) or 290/300bhp (5 litre). Above these power levels we still believe an aftermarket ecu (eg Emerald K6) is the way to go for total control over the fuelling AND ignition settings. However for mildly tuned Rv8 engines a remap of the standard ECU system may be all that you require.
October 2013
Congratulations to Graham Walden for securing the Class B title in the Dunlop Tuscan Challenge with one round still to go. Graham's Rover V8 powered Tuscan race car runs an Emerald Engine Management System which is mapped at Kits and Classics to the current class bhp limit and has been totally reliable all season. Well done Graham.
October 2013
Once again Howard Barnard has chipped a few tenths off his Prescott Hillclimb class record in his 4.6 V8 Griffith. Howard's Griffith is mapped at Kits and Classics and runs our own CNC Blended Trumpet Base. Sadly Howard's car is so quick that it has been banned from competing in the series next year!