STOP PRESS !!! TVR CHIMAERA GRIFFITH V8S
EMERALD K6 ECU FITTED AND MAPPED DRIVE IN DRIVE OUT CONVERSION NOW STARTS FROM ONLY £1895.00
January 2017
With the Cerbera pretty much stable now and the Tuscan waiting for it's rear mounted fuel tank (so we can make it a two seater) attention has turned to the Mk1 1963 Triumph Spitfire 4. These are pretty rare now, with good ones fetching 20,000 pounds! This one cost 90 pounds in 1980 and has been semi-restored twice already ..
The plan is to make it structurally sound and just have some sunny fun in it. It will never make a show car, it needs too much money spending for that .. but if it can give us some smiles that will be great.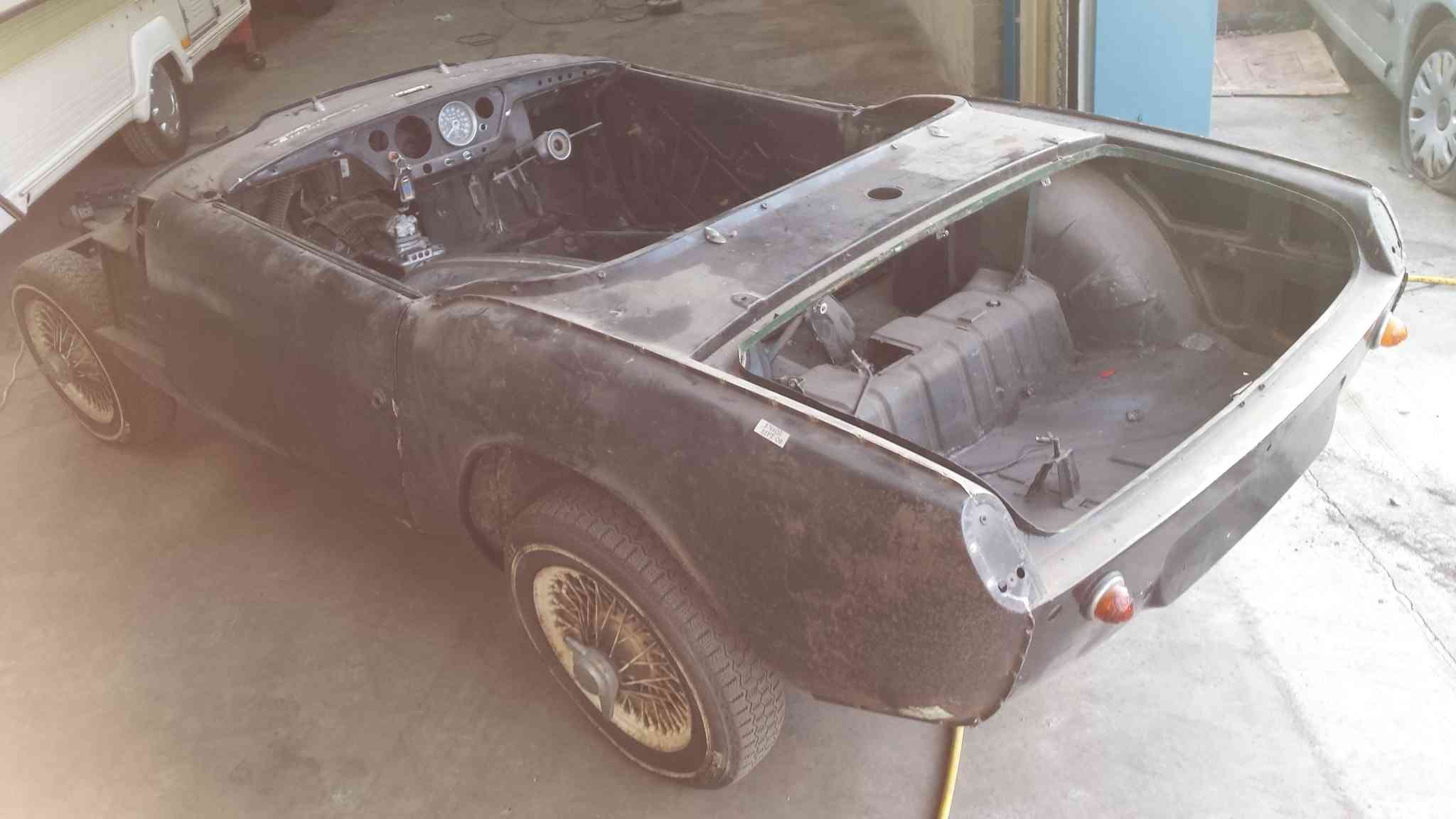 November 2016
With a little bit of spare time this month the Tuscan got a bit of attention .. fabricating the Y piece from the manifolds to reach up and over the nearside manifold and then down into the nearside sill area. A wideband lambda boss has been incorporated into the final pipework for when it's being mapped on the dyno.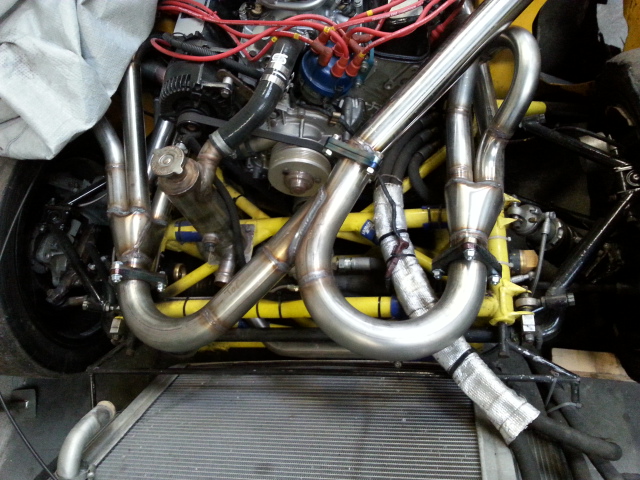 October 2016
Tuscan racer engine bay starts to look a little less empty now ...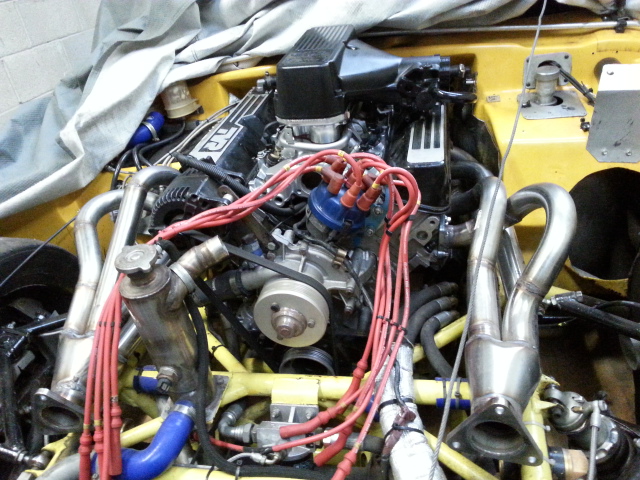 October 2016
The workshop has been incredibly busy over the summer and it's only now that I can turn attention back to the Tuscan race car. I've got the exhaust manifolds fitted but still need to make the rest of the system. I've ported an inlet manifold and fitted a 45mm blended base which allows me to fit a plenum and injection just like to original road version of the Tuscan was supposed to have.
I've also bought a swirl pot, high pressure pump and a large throttle body, all yet to be fitted but they look good on the bench already!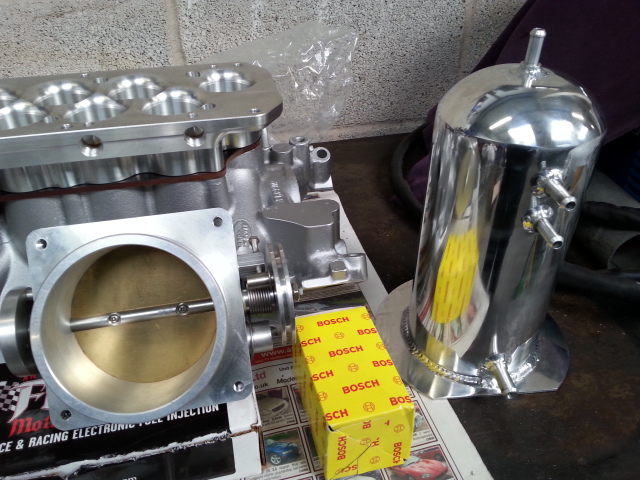 July 2016
The Cerbera has now done over 1000 trouble free miles so it has just had it's valve clearances done and also visited the rolling road for a power run.
Still running its retarded running in map and only revving through to 6000rpm it recorded 370bhp and 340lb.ft .. hopefully a bit more to come once it's fully run in and had its bespoke mapping session. The rear silencer is starting to rattle so it looks like that is beginning to collapse internally which can't be helping power, the system is still the original 2 1/8th inch standard 4.2 pipework too so it's time to make a new big bore system to really help it breathe ..
June 2016
The engine is running well with no issues to report which is great.
Running in wasn't left to chance and was carried out on the rolling road .. here load and revs can be varied exactly as intended and important pressures and temperatures can be closely monitored without having to think about traffic conditions.
June 2016 Cerbera
The good news is that the cerb engine is in and started first turn of the key, well press of the button anyway!
A few good blips of the throttle have hopefully given the rings the first bedding in pressure, but the important bit when a job like this is being done is that it all looks new and shiny!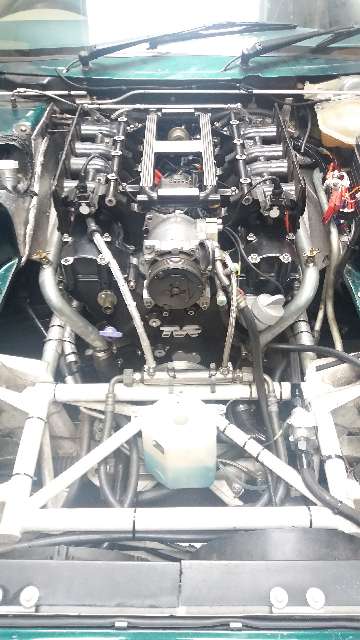 June 2016 Cerbera
Well it's been an incredibly busy time just recently so very little work on our own vehicles has been done. Having said that, four of the fleet have been MOTd (and repaired where required!) in the past month, I really need to spread those out a bit more evenly through the year but with a total of 9 vehicles in the fleet there's always something needs doing ..
So .. the Cerbera engine has been a slow progress affair .. BUT .. it is now resting in the car once again. Hoses and most of the wiring is in, oil pressure built up beforehand so I know that once the inlet manifolds are back on and it's ready to fire it up that the oil system is full of lube not fresh air!
Here is the engine and box built up just before going back in the car.
May 2016 Cerbera
Heads and sump on .. starting to look like an engine again after 4 months in pieces ...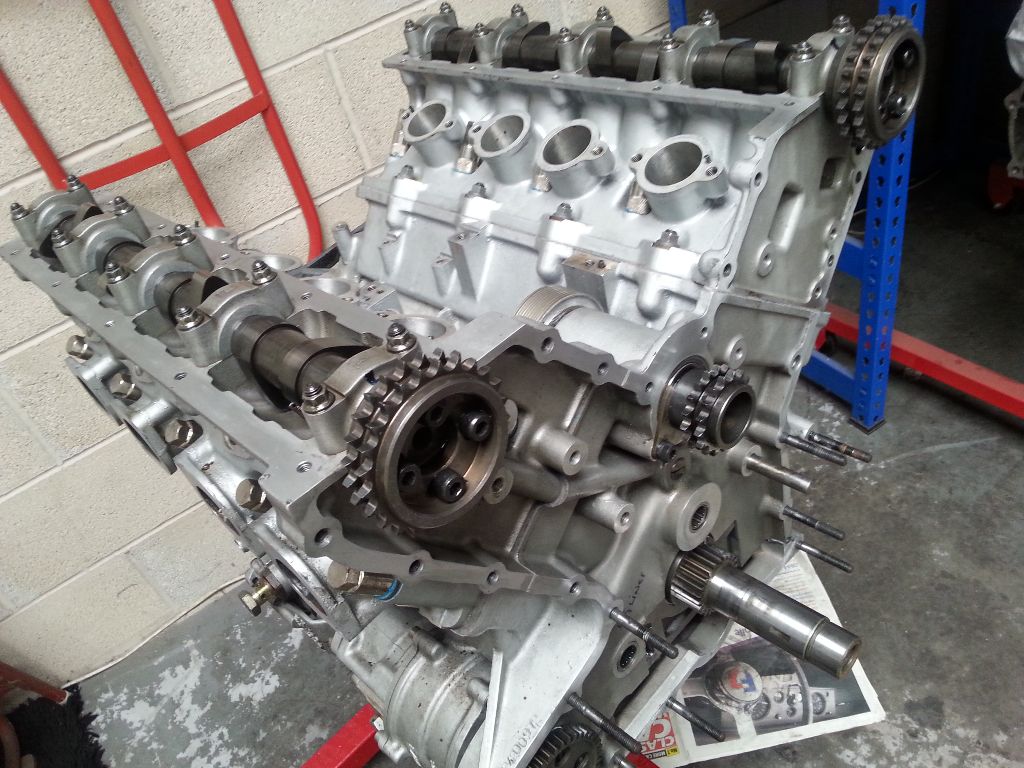 April 2016 Cerbera
The engine block is now cleaned, cleaned and cleaned again, and prepared and the crank is installed. Next step is to install the new Pistons and Total Seal rings onto the conrods. The new pistons are handed and with offset gudgeon pins to give a quieter engine on cold starts.
April 2016 Cerbera
The engine block is back from Powers Performance .. bored oversize to accept the new liners they have made. My engine is being built with Diamond pistons, though Dom says OMEGA pistons are on the cards for the near future too.
Now I just have to find some time to build it, fit it, run it in, map it and put some miles on it !!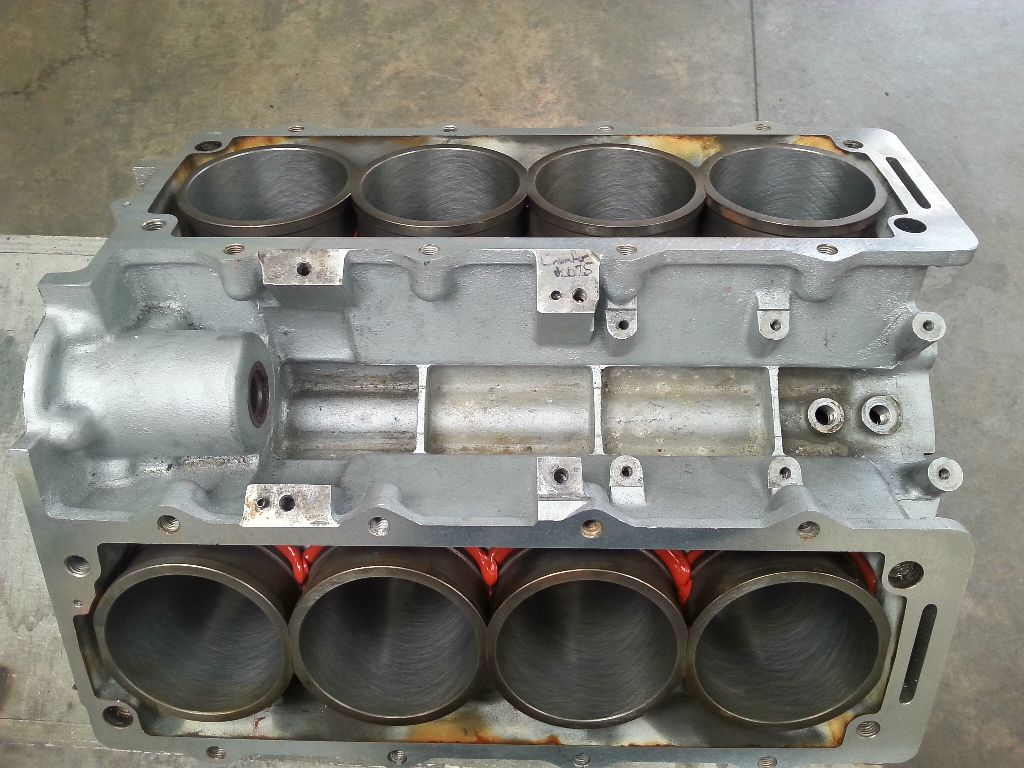 March 2016 Tuscan
The Cerbera engine block is still away at Powers Performance so in the meantime I've managed to get the headers done for the Tuscan racer. It's not been a big job in real terms but tryng to find just an hour here and there recently has been very difficult. Because of using 1-3/4 inch primaries I've made my own collector cones as the 4 inch off the shelf cones weren't really big enough and 5 inch cones seemed very expensive. A combination of TIG and MIG was used during manufacture. Primary pipes of close to equal length should also ensure a nicer more even exhaust note and better silencing than the previous versions fitted as standard.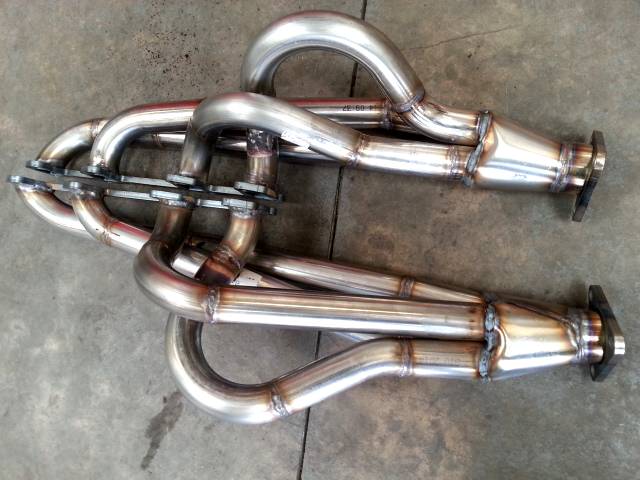 February 2016 Cerbera
Whilst the engine block is away at Powers Performance having some machining done to accept the latest oversize liners the rest of the car has had a holiday at RT Racing for new outriggers.
The car is now back with us and hopefully the underneath is now good for many many more years of service.
Pictured here are the new pistons ready to be fitted to the engine block once it returns from its machining. Sadly new 4.2 iners are on a 12 week order time so the decision was made to go for new pistons and liners and give the engine a bit of a performnce boost into the bargain. It should be a comfortable 400hp once completed. Fingers crossed.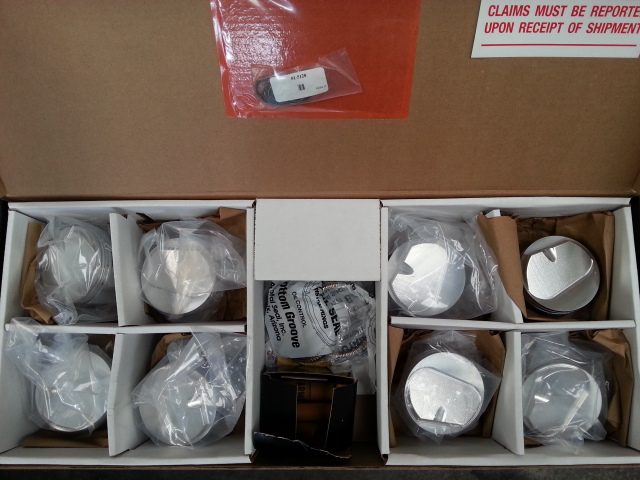 January 2016 Tuscan
Work begins on the exhaust manifolds. Just as with the intake work going on, these exhausts are being made as temporary fittings to begin with whilst we play about with designs and lengths hence they aren't very pretty right now. Once a suitable system has been finalised it will be re-made in full stainless and TIG welded together. The plan is to eventually have a set of manifolds which will also be available to Chimaera and Grifith owners. This Tuscan set wouldn't fit between the inner wings on Chimaeras and Griffiths but the lessons learned here with pipe diameters and primary lengths will be used in the development of the road car versions.
To begin with we are trialling a set of 4 into 1 equal length pipes of 27inch length and 41mm internal bore.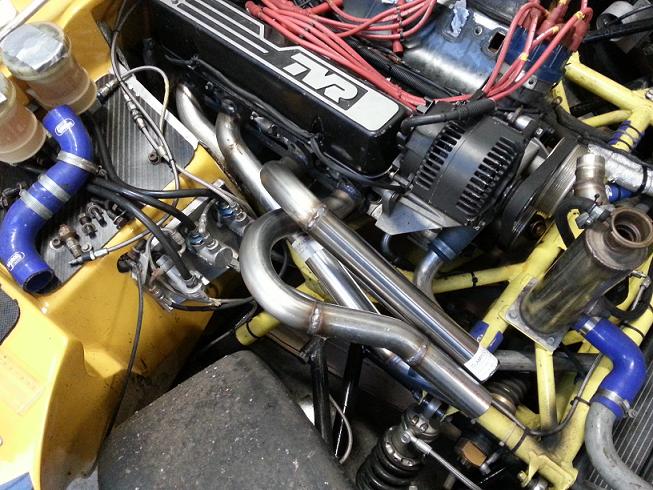 January 2016 Tuscan
With the Dellorto carbs now on their way to their new home under the bonnet of an MGB GT V8 race car the coast is clear for the new induction testing to begin on the Tuscan. The idea is to trial a system which allows for easy changes in induction length and therefore change the profile of the power delivery to make the car more powerful overall. At the moment the engine is extremely good at the top end of the rev range but not so good at low to mid range revs .. we hope to rectify this with some induction length changes.
To this end we have started fabricating our own inlet system which is of a cross-over type. This was chosen for many reasons but mainly it allows for a relatively straight path into the cylinder heads whilst allowing for length changes to the twin airboxes. Picture below is the first stage of this trial, the mild steel development mocked-up in its earliest form.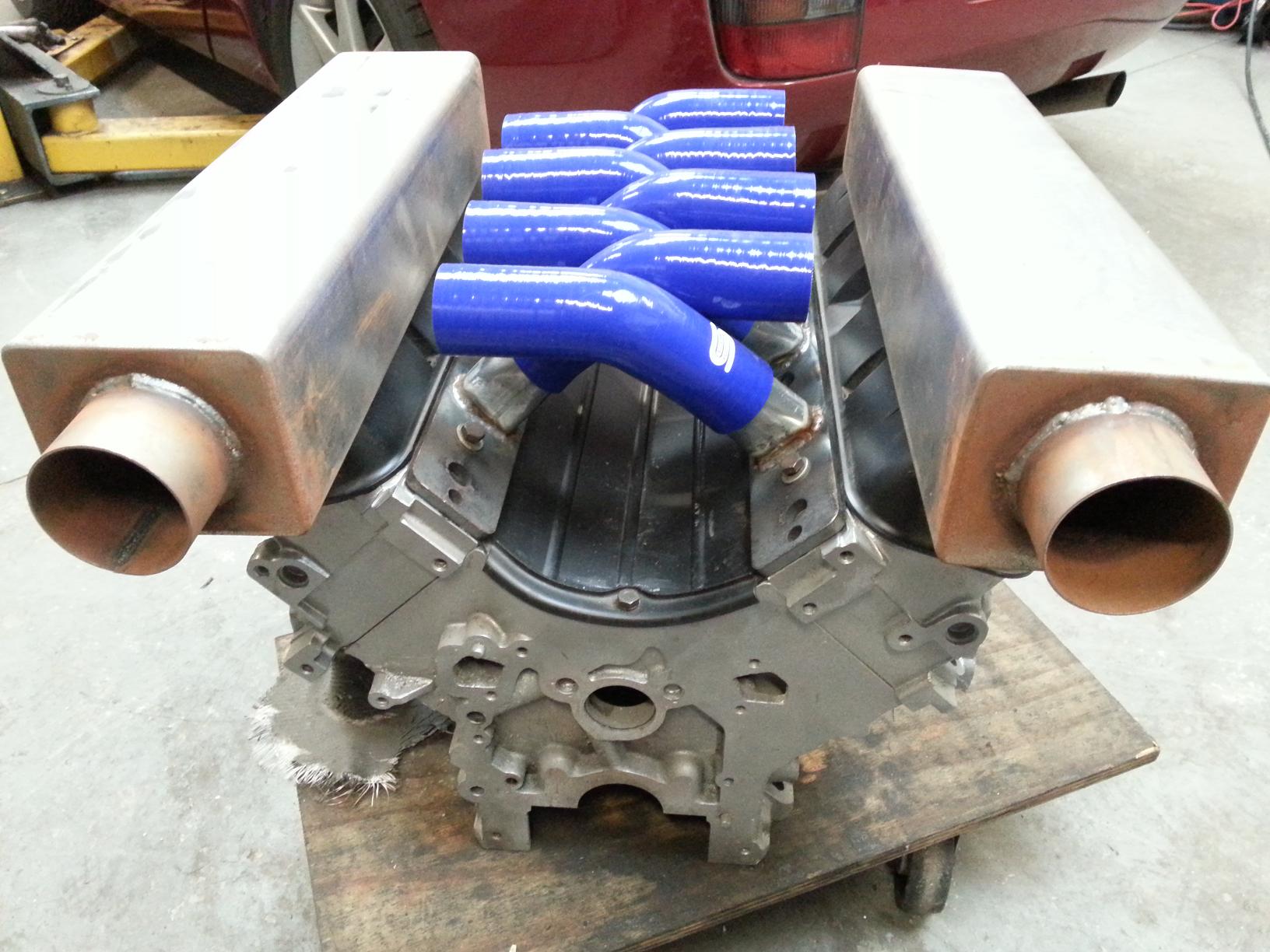 December 2015 Cerbera
The Cerbera has made it onto the ramp for some more work this month. The suspension has already been changed for the wonderful Protech double adjustable dampers with road comfort spring rates. The double adjust aspect allows precise tuning of the spring control and load transfer with independent control of the compression and rebound resistance.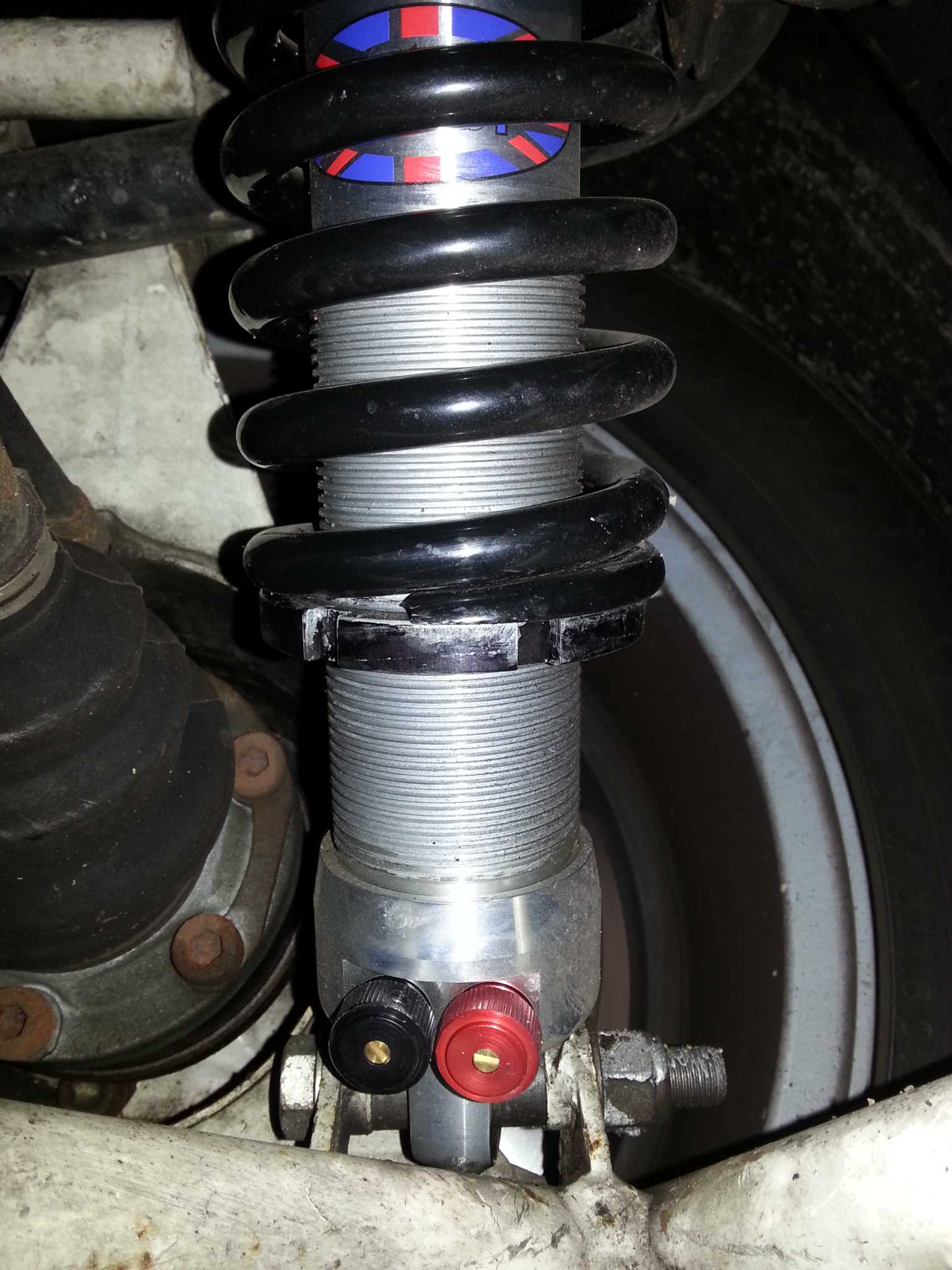 The other major work centers around the engine ..
The car had already had an engine rebuild before being purchased but sadly under large throttle openings excess piston blowby is forcing oil through the breather into the offside airbox so investigation is required. The extent of the work required to rectify will dictate the decision whether to change from 4.2 to 4.5 or 4.7 or something even more radical.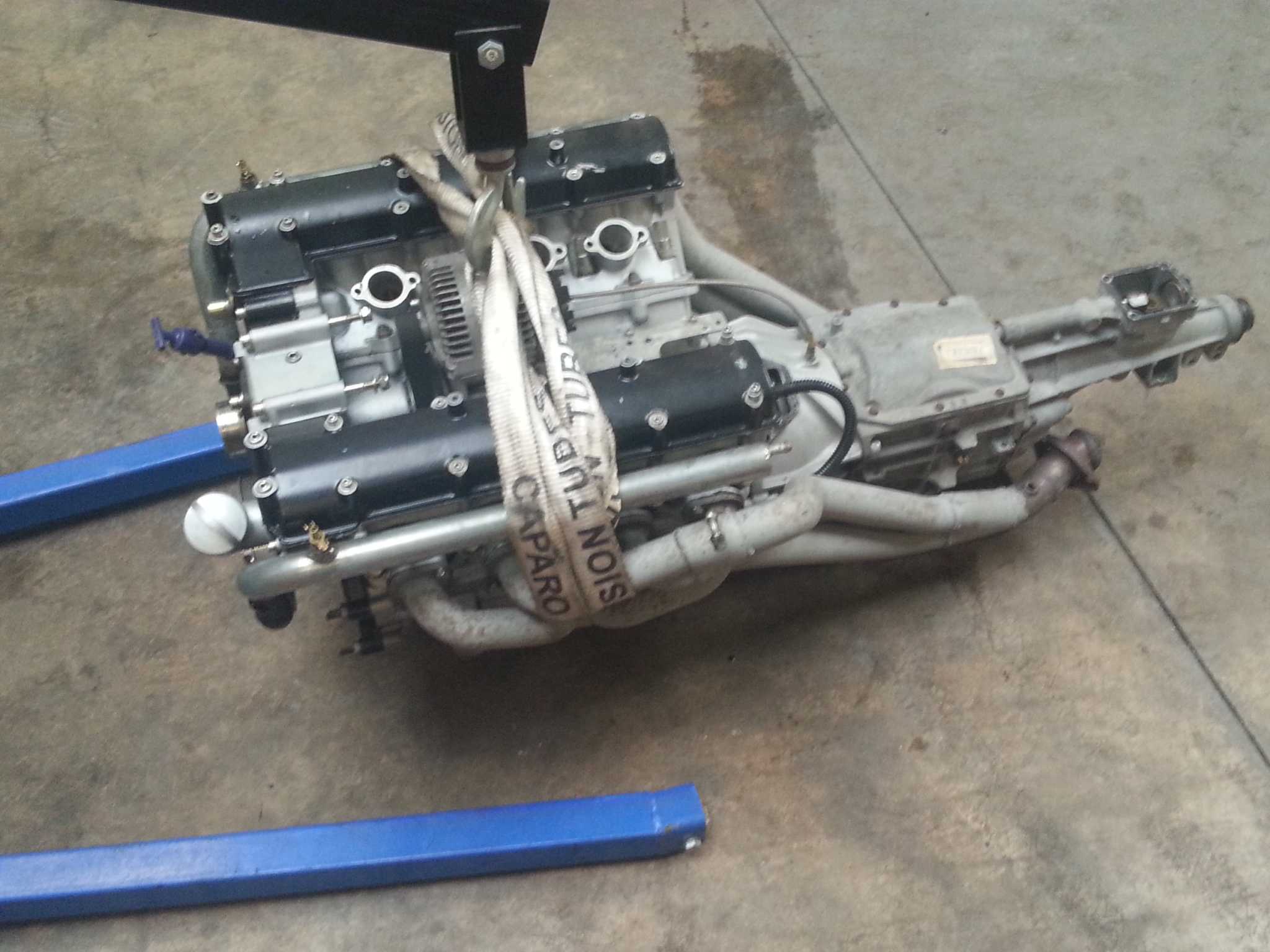 The engine is now out of the car and whilst it is being rebuilt the car is travelling up to RT Racing for replacement outriggers. RT Racing do the best chassis work in our opinion so the car should be ready for many decades of use after they have done their work.
October 2015 Tuscan
48DRLA Dellorto carbs removed as part of development process involving changing to fuel injection on our own bespoke intake system. Exhaust changes will also take place. Carbs and exhaust are for sale.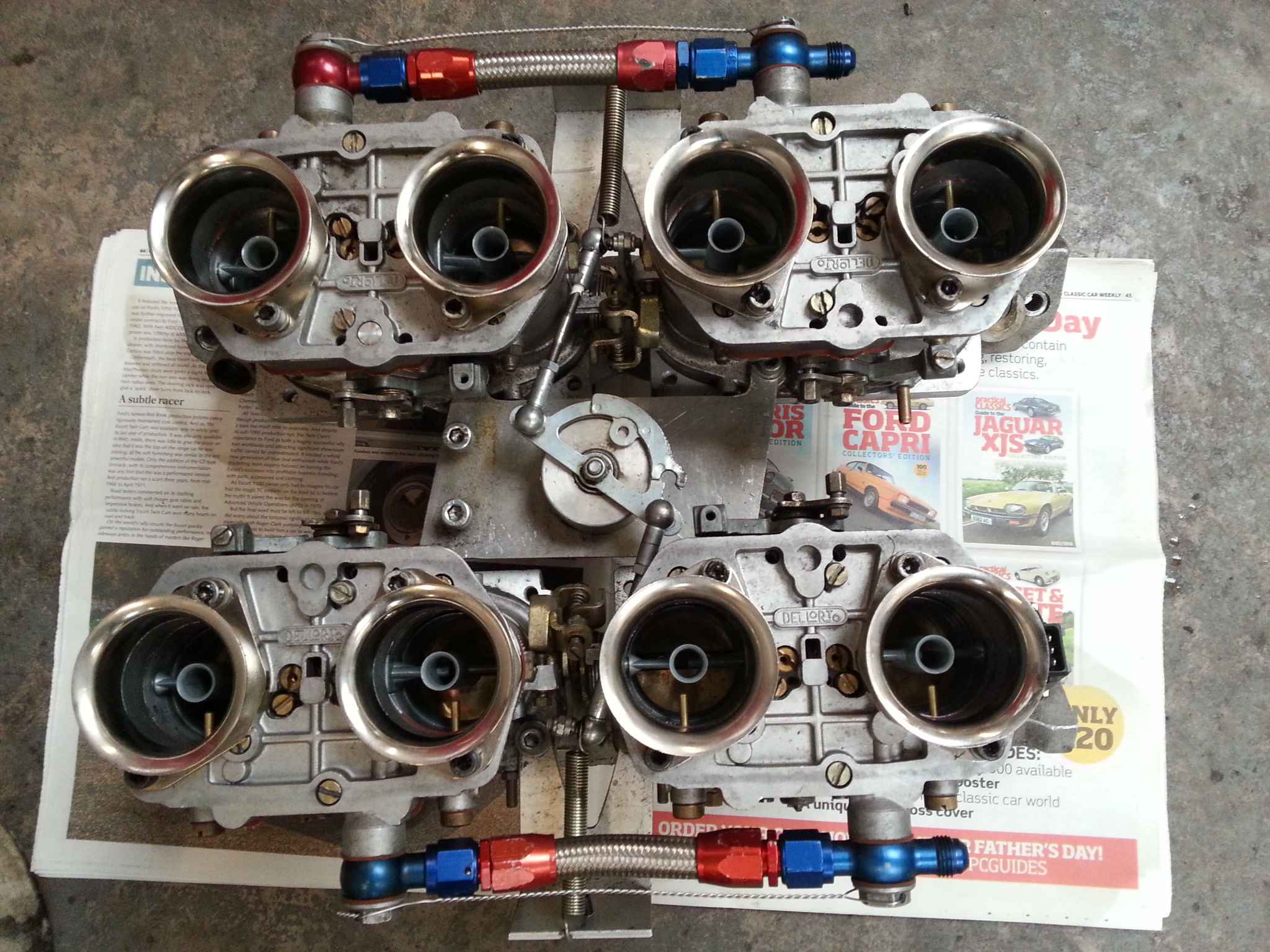 October 2015 Tuscan
Car de-stickered, checked over and run on rolling road. Power 325bhp at wheels.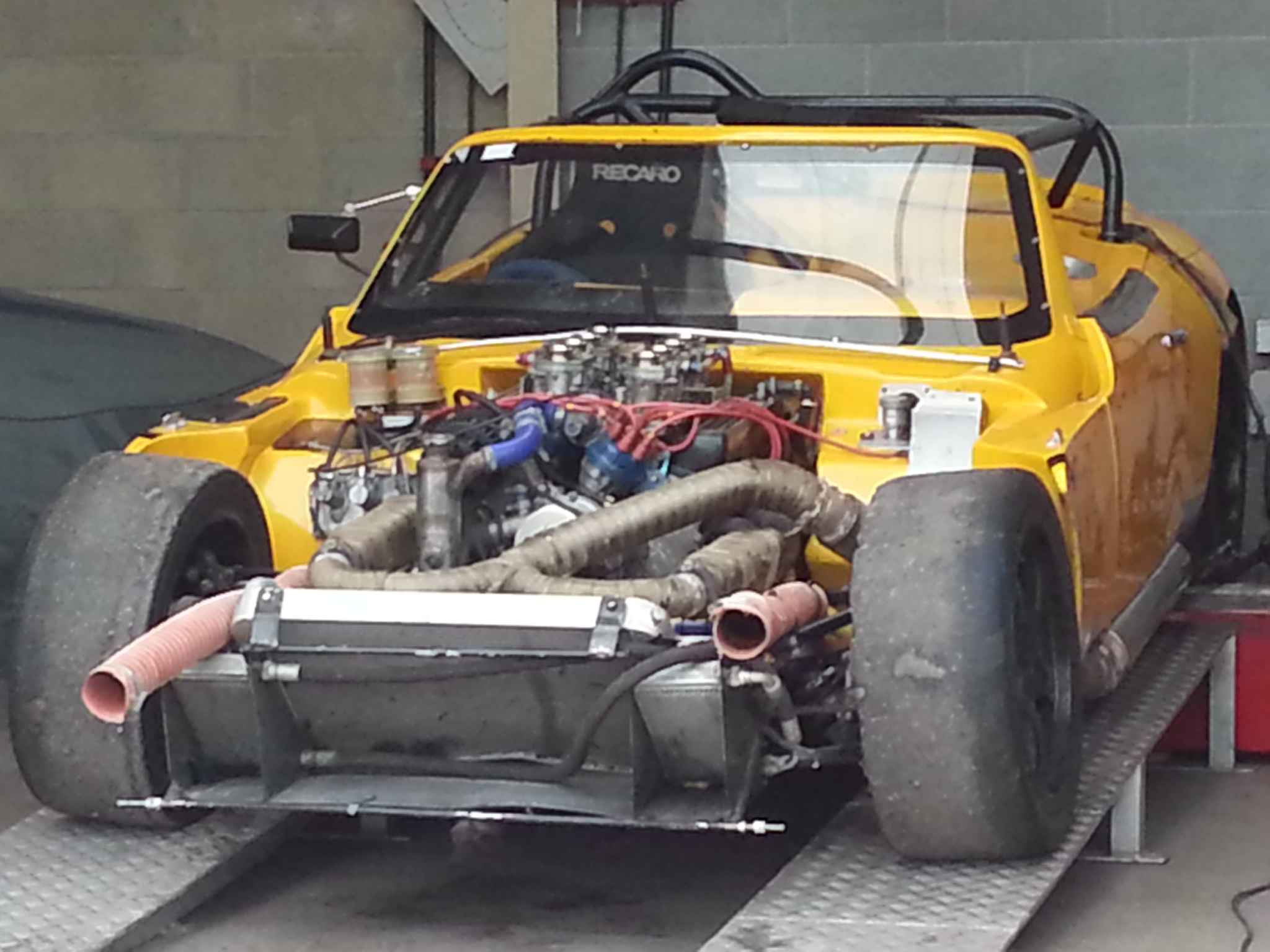 October 2015 Tuscan
Tuscan Race Car arrives.