STOP PRESS !!! TVR CHIMAERA GRIFFITH V8S
EMERALD K6 ECU FITTED AND MAPPED DRIVE IN DRIVE OUT CONVERSION NOW STARTS FROM ONLY £1895.00
June
Testing has begun of remote switchable dual maps for the MBE ECU as fitted to all later TVRs. I've been running this system in my own Tuscan SP6 over the past few weeks, so a bit more testing should prove it's a reliable way to get 2 separate maps into your late model TVR.
June
Adding a turbo to the Rover V8 is a sure-fire way of boosting (!) its performance. The kits these days are comprehensive affairs and many owners elect to fit the kits themselves and they do a great job.
One of the issues though is that often problems only materialise when the cars are run under sustained boost .. this happens rarely when a car is accelerating quickly on the road .. something happens which means you have to take your foot off the throttle (usually excess speed!) and so potential problems lie undiscovered until it's on the dyno.
This intake hose collapsed on a high hp 400bhp plus dyno run and we were lucky that nothing was injested into the turbo.
It has now been replaced with a bespoke fabricated intake by the owner, but to get us through the mapping we rigged up a temporary snorkel. TVR meets Camel Trophy Land Rover! It made 452bhp!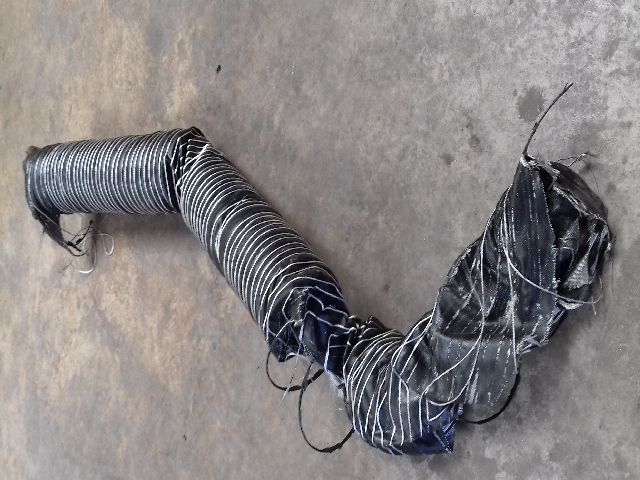 May
"It only needs mapping ..."
How many times have we heard this .. well in some cases it's absolutely true - a car comes in that is well set up, been correctly serviced and maintained to a high order and indeed after a few basic checks we can go ahead and crack on.
Then there are the other cars .. and so another Speed Six engined car gives us a bit extra work to do.
A low idle speed, poor town driving manners and a fluffy start-up are all classic symptoms of valve clearances which are too tight or have no gap at all, and this was exactly the case with the Tuscan in for mapping the other day.
The engine had already been rebuilt albeit quite a few years ago, and the car supposedly had a full service around 1500 miles previously, but as usual the exhaust valves were all absolutely fine but all the inlets had closed up, some to the point of having no gap at all. They probably hadn't even been checked since the engine was rebuilt.
Whilst we were at it we reset the cam timing to one of our own timing setups and finally got on with what it was originally booked in for, the remap.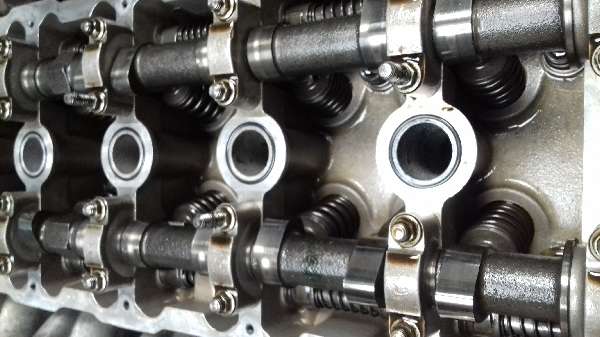 May
Internet forums are full of useful advice, and some not so useful. One thing that gets said a lot is that mapped ignition will transform your engine from a wet blanket to a fire breathing monster. My experience, at least on most relatively modestly modified engines, is that this tends to be greatly exagerrated.
I recently had the chance to do a few back to back runs on a TVR 4litre Rover V8 fitted with a Stealth cam.
The graphs are printed below ..
The blue line is with 28degrees of advance at 4000rpm and gave 236bhp
The grey line is with 31 degrees of advance at 4000rpm, it gave 238hp and nothing extra through 90 percent of the rev range
The red line is with 24 degrees of advance and as you can see it lost power everywhere.
The bottom line is that , providing your distributor is set correctly, the best you can expect from mapped ignition is an extra 2-3bhp over the distributor curve TVR used.
There are small gains to be had in part throttle economy, maybe a bit of extra response, and the opportunity to refine the mapping around idle when using mapped ignition, but the differences are slight. Anyone who tells you that their engine gained massive power was using either incorrect timing to begin with, or their engine is modified significantly to the point that the standard advance curve is miles out. Everyone else is probably trying to sell you something you probably don't need ...
May
Looks like this one has come in just in time .. surprisingly this was still making good oil pressure but its days of running like this are sadly numbered. And to think it was only booked in for a noisy half time bearing to be changed ..
In the words of that excellent TV show The Six Million Dollar Man : Steve Tuscan, sportscar. A car barely alive. Oscar Goldman: "Gentlemen, we can rebuild it. We have the technology. We have the capability to make the world's first bionic car. Steve Tuscan will be that car. Better than it was before. Better... stronger... faster"
April
A well meaning friend of a long term customer of ours wanted to build an engine for our customer .. he had some ideas he wanted to try out and rumours of 400bhp were whispered at one time or another.
Well as some of you will know, after about 6 years that engine came to nothing in the end. It got built, and installed, but never finished off. It came to us a year ago with the instructions to get it running and mapped etc but it didn't go to plan - it was breathing heavily and at part throttle on the map and just 112bhp it promptly threw a load of oil over the nearside exhaust manifold and caught fire.
Fortunately a very quick blast of the CO2 extinguisher put it out (it was just a flash fire on the manifold but still quite scary!) .. and at that point, after many days of sorting through various issues, I called it a day and pronounced the engine, cooling system modifications, oil system modifications and incorrect flywheel very sadly all unfit for purpose.
The engine was removed and stripped.
It was in such a state that acclaimed engine guru Rob at V8Developments said he didn't want to rebuild it. What was our customer to do now?
Fortunately Rob had the answer. He would build one of his famous short stroke 5litre engines for us and what an engine it's turned out to be.
366bhp, 355lb.ft. Awesome.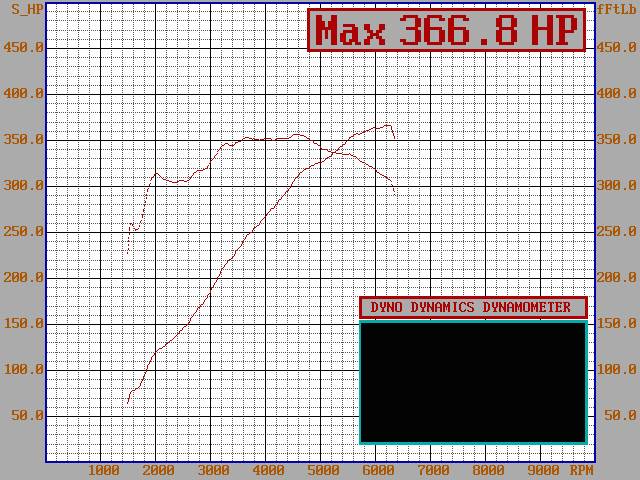 April
Sometimes a car comes in for tuning work and the results outperform the expectation.
A 4litre Chimaera in standard spec normally makes around 220bhp on our dyno, and a bit of tuning with some aftermarket goodies thrown into the mix often gets you to 240-245bhp.
The Chimaera that we worked on the other day was presented as a standard car to which was added a modified trumpet base, plenum spacer, silicone intake pipework and a remap to its 14cux Lucas ECU.
The result was more than expected, which is great for the owner of course! The power delivery looks slightly peakier than we would normally expect but the owner has no evidence for any change of cam and short of opening it up and physically checking we don't know either.
Great result though and a nice surprise.
April
In preparation for an upcoming track day one of our regular visitors has installed some new exhaust manifolds onto his 5.5Litre Chimaera.
As always, the owner came up to us from deepest Surrey for remapping his Emerald K6 ECU. He trusts our work and trusts that our dyno gives honest repeatable results time after time, year after year.
The car made slightly more power than the last time it ran on the rollers, and armed with a graph from another rolling road which showed over 400bhp we were quietly confident that his new upgrades would see his car claim the crown as the most powerful Rover V8 to run on our dyno.
The results on the day didn't quite make that happen (the honour still lies with a John Eales 5.2 just a couple of bhp shy of the magic 400!) but the owner was still happy with the end result, and we agree .. just look at this graph!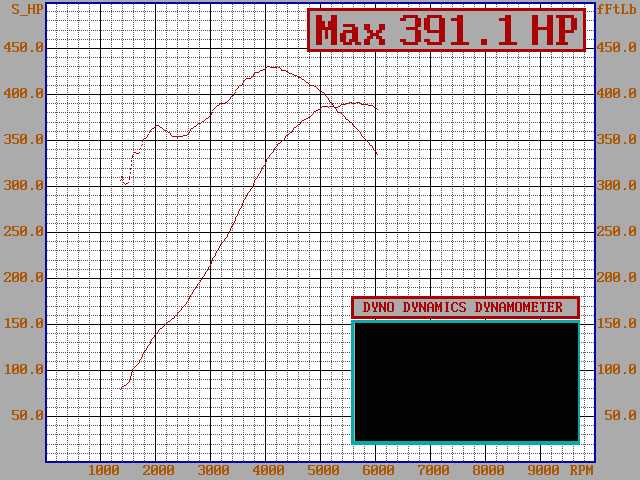 April
Camshafts are a hot topic in the Rover V8 tuning world and for years we have trusted the judgement of Rob at V8 Developments and let's face it he's seen more variations of cam and engine than most of us have had hot dinners.
One of his more popular high hp cams is the H404 and with good reason .. we've seen this cam make great power over the years but recently we had chance to see exactly what its performance potential is on a well built 5litre Rover engine running the ACT Triple intake and ACT long primary pipe manifolds.
We know the ACT Triple plenum is completely unrestrictive at up to 400hp and we've seen good gains with the ACT long primary pipe exhaust manifolds over decatted standard Chimaera and Griffith manifolds in other dyno runs so this should be a good test of the sort of power you should see on a well built 5 litre RV8 using "all the right bits".
As you can see the results are impressive. 360bhp from a Rover V8 was at one time the preserve of race engines. A great result all round.
March
High rpm misfires are commonplace on the TVR SP6 engine if the throttle bodies have more than the slightest wear present. Data logging performed by us under test conditions suggests that a resonance sets up in the intake system which causes rapid high frequency flutter on the butterflies which causes the throttle position sensors to output a very erratic signal.
The way to overcome this is to have the throttle bodies modified with new bush inserts to support the throttle shafts securely.
Just such a conversion was carried out this month on a Cerbera SP6. The owner had reported that spirited driving brought on fault codes in the ecu and the MIL lamp illuminating.
We are pleased to say that replacing the throttle bodies with our race versions, along with a change of injector, and a bespoke ecu remap resulted in not only eliminating those troublesome fault codes, but also resulted in a healthy 30bhp improvement.
The owner commented : "Was great to see you at Cadwell, my car performed 100% all day, pulled like a train and no error codes. You did a top job there - thank you again" Mr GM, Cerbera SP6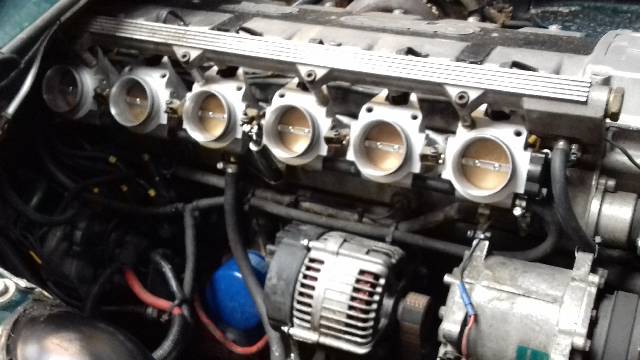 March
Many people now realise that the large bore induction hoses on the Chimaera, Griffith and V8S are restrictive even at relatively low power levels, but what difference does a straightforward 90 degree elbow change make? Well we had chance to do just this exact test recently on the dyno.
A precat V8S came in for Lucas ECU remapping, it had recently undergone a full engine rebuild to standard spec except for pocketed pistons and a stealth cam.
Initially the power looked disappointing, but it was felt that maybe the standard restrictive small valve heads and 38mm inlet manifold were holding it back.
Just for the interest of seeing if it would make a difference the standard convoluted intake hose onto the plenum was substituted with a silicone elbow and a short straight tube.
The results are plain to see. Even at under 250bhp the standard land rover / TVR corrugated intake hoses are restrictive. Cheap horsepower indeed!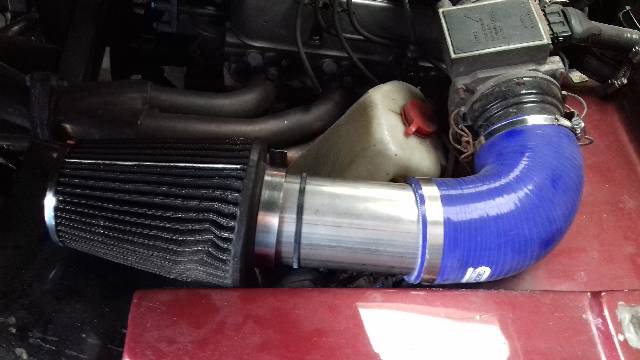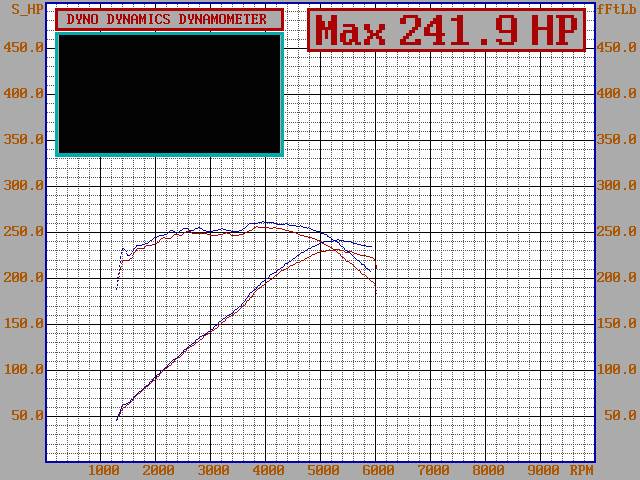 February
As many of you will know we do a lot of mapping work for other garages but the core of our business is in fitting and mapping the excellent Emerald K6 ECUs for our own customers.
The smaller engined TVRs don't usually come in for this work, it's almost always the larger capacity engines and forced induction engines that get the aftermarket ECU treatment. However a couple of weeks ago a beautiful near-standard 4litre Chimaera turned up for an Emerald ECU fitment. This was an early stage for the owner who is on a program of gradual improvements to the car, so it made sense to get a fully mapable ECU in there sooner rather than later.
The car was perfect throughout and the engine is strong and healthy turning out repeatable power runs over 240bhp. A great result for a standard 4litre and a perfect base on which to build the power levels going forwards.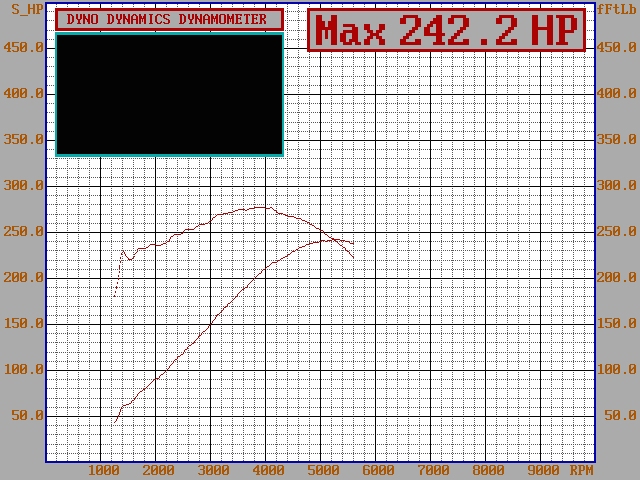 February
Two cars have just been on the rolling road, a Sagaris / Tuscan conversion and a 5.4 Chimaera running a megasquirt ecu.
The Sagaris had an annoying misfire which was easily replicated on the rolling road without having to leave the workshop for repeated test runs, this saves a lot of time and aggravation. In the end it turned out to be a corroded ignition coil, quite a common occurance even if something high quality such as the Bosch one fitted to this car is used.
The Chimaera was fresh from a chassis restoration from SD Autotec and it was beautifully presented .. the finishing touch being chrome effect heatproof coatings on the ACT exhaust manifolds which looked fabulous.
The car had already been to another tuner up in Yorkshire and it's always difficult to know what improvements can be made after someone else has already had a go .. however after some time on the dyno and out on the road some improvements to drivability were found. Some time was also spent on the cold start and warm up routines but this is an area where you can literally keep playing for days, months, years if you so wanted .. gradually refining this hard to map routine is often the most frustrating part of any ecu remap and it's no wonder many places simply do not do it.
Here is the beautiful engine bay, all work done at SD Autotec.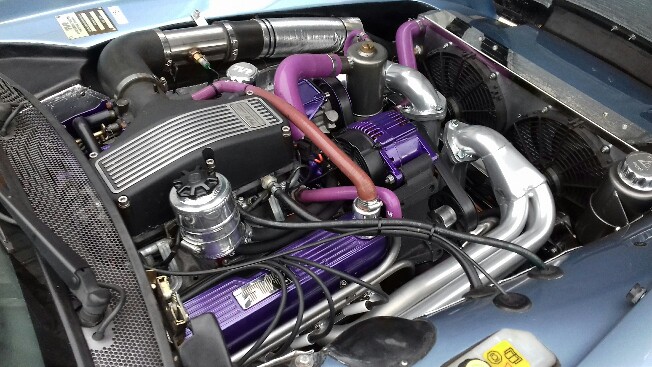 February
Sometimes even we underestimate the importance of the exhaust system on the higher powered Cerbera .. one such car has just been in and made a lowly 362hp after remapping .. something wasn't right!
A look under the car revealed that the catalysts were still in place, but worse than that the intermediate pipes were of a very poor quality and with crush bends instead of full diameter mandrel bends. We know from our extensive testing over the years that this is critical to making good power, also the rear sports pipes were of a similar design with crush bends and small diameter pipework. Surely a new exhaust has to be worth a few hp ??
Well after fitting a fulll ACT system the result is an extra 28bhp! Even we were amazed at the difference. A much healthier 390hp was the end result. A slightly peaky and early torque delivery coupled with having to take some ignition out at lower revs compared to what we would normally use suggests the cams are timed in advanced .. but as for now this is a great result and proves once again that the Cerbera needs a proper low back pressure system to make the power.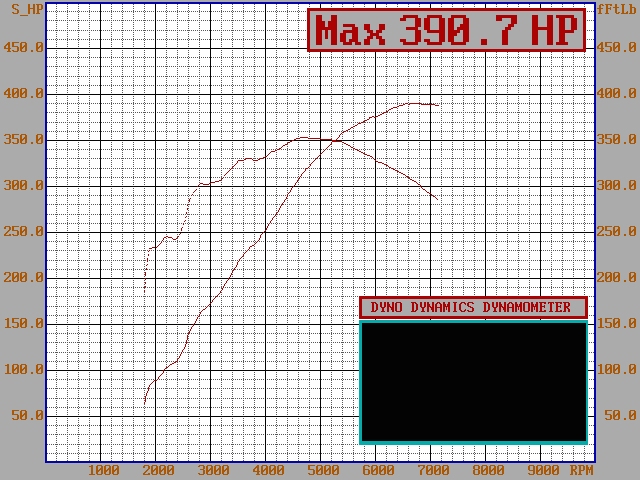 February
Ultimate TVR Speed6 Throttle Body Upgrade. Following on from development work on our in-house rebuilt 3.6 litre race engine which easily exceeded 100bhp/litre (390bhp frpm 3.6 litres) we can offer these ultimate upgrade throttle bodies. They are rebushed, soda blasted, throttle spindles thinned and intake aperture tapered and utilise inprovements we made on the race T350 intake to maximise flow capability. We can also offer them with upgraded injectors as part of a bespoke remap package.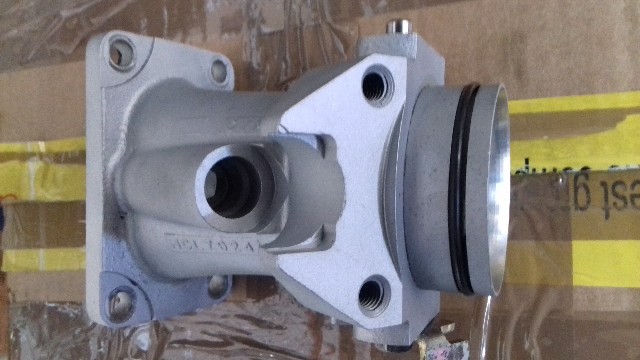 February
The Whirlwind8 kit is still a sure but steady seller. This kit has now been on the market for something like 10 years and we have yet to find anything which offers better value for money performance gain per pound than the Whirlwind8 plus a bespoke remap. Basically around 1000 pounds for anything up to 70bhp gain in some cases!
February
We don't do much servicing but when a customer calls us and wishes to bring his Cerbera down all the way from Dundee for bespoke mapping and asks if we can service his car at the same time it makes sense to get everything done in one place at the same time, so we said yes. Another Cerbera is in at the workshop in 2 weeks time for the exact same work.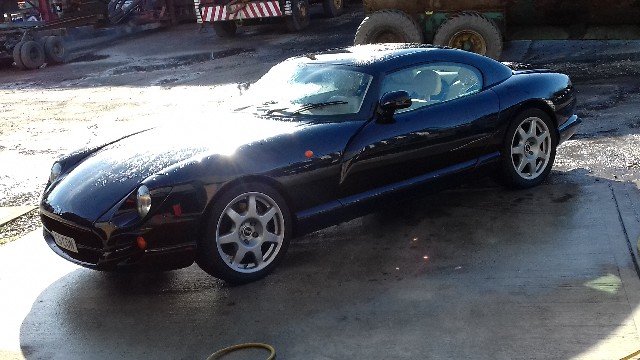 January
With a rush of Emerald ECU fits coming in the next 2 months we thought we would get a head start on some of the bespoke wiring looms we create. The installs can all vary slightly eg the supercharger kits sold by SC Power use the plenum turned round 180degrees so the throttle potentiometer wiring needs to come out of the loom on the offside not nearside and also needs to allow for a MAP sensor to be fitted. Some people like the coils at the front of the engine, some on the side of the plenum, some like the GEMS packs on the rear of the plenum. Our pin board allows us to cater for all these different versions.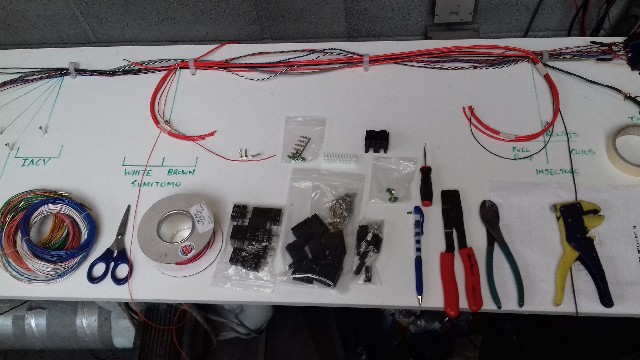 January
Our good friends at SD Autotec recently sent a Cerbera down to us for some ECU tweakery. SD Autotec is run by Steve and he produces excellent work. His chassis restorations in particular are known to be of a very high standard indeed so give them a call if your chassis is in need of some TLC or if you require any other service or repair work. We don't give out many recommendations but we are very happy to recommend SD Autotec.
This picture shows our MBE remapping software connected up ready to correct some light throttle fuel map load sites. In the end this turned out to be just about the smoothest running AJP8 engine we've ever driven.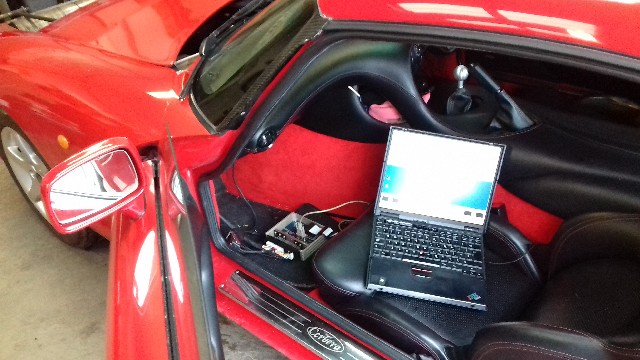 January 2018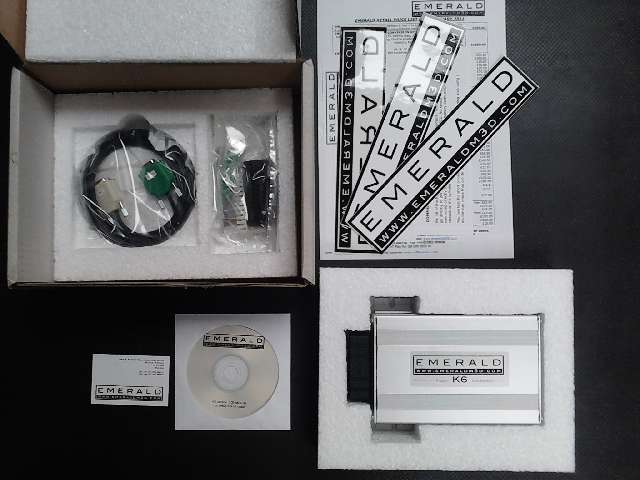 We start the new year with a revision to our popular Emerald K6 ECU conversion onto the Rover V8 powered TVR range.
By using your existing Lucas 14CUX ecu and other hardware in part exchange you can now have a fully fitted and mapped Emerald K6 ECU for just £1895.00 !! This is our base install without lambda feedback and using one map only, but for those who wish to take advantage of the benefits of the Emerald K6 but who are on a tighter budget we feel this fully fitted price represents by far the best value for money on the market today. You can always add the triple mapping facility, and the lambda feedback at any time in the future to help spread the cost of our top range kit offering if you wish.
Spread the word : Maybe you're not ready for the aftermarket ecu yet, but know someone who might be interested, please let them know of our new fully fitted drive in drive out package at this bargain price